Big Bang's 'Fxxx It' Music Video Reigns On YouTube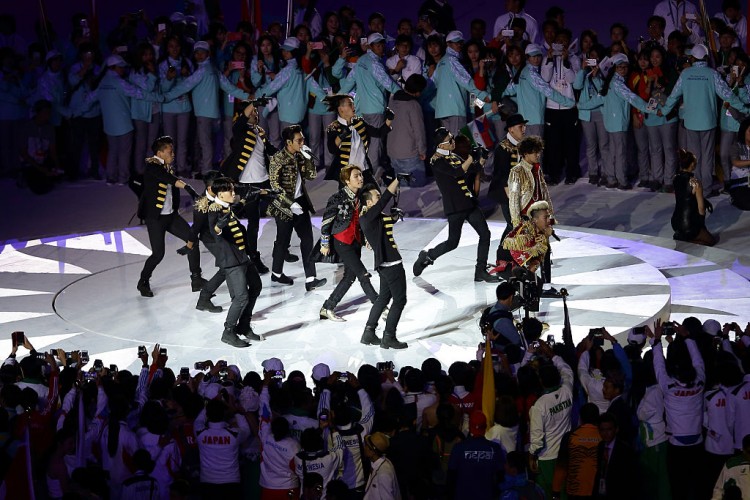 The music video of Big Bang's song "Fxxx It" was published on YouTube on Dec. 12, 2016. On July 1, Saturday, the music video reached 100,000 views mark in the video-sharing website.
This makes "Fxxx It" the ninth Big Bang song to have a music video that received more than 100,000 views on YouTube. The others include "Bad Boy," "Bang Bang Bang," "Blue" and "Loser."
The "Fxxx It" music video was filmed in on October 18, 2016 Cheongju, South Korea. It was directed by Seo Hyun-Seung, who also directed the music videos of Big Bang's songs "Bang Bang Bang" and "Fantastic Baby."
"Fxxx It" is from Big Bang's most recent album titled "MADE." It was the group's third Korean studio album and fifth Japanese studio album.
As a group, Big Bang is on hiatus while its five members are pursuing different things individually. One of the members, T.O.P., recently made headlines after getting involved in a marijuana scandal.
After releasing a solo album in May, Big Bang leader G-Dragon is currently on a world tour titled "Act III, M.O.T.T.E." Seungri released a solo album in 2013 titled "Let's Talk About Love" while Daesung released two solo albums, namely "D'scover" in 2013 and "D'slove" in 2014.
The next member of the group expected to release a solo album is Taeyang, according to Korea Herald. He released his first solo album titled "Solar" in 2010 and his second one titled "Rise" in 2014.
Before the release of Taeyang's third solo album, he will grace the cover of a fashion magazine in Singapore called The New York Times Style Magazine, as cited by All Kpop. The magazine will featured black-and-white photos of the Big Bang member.
Taeyang has been tapped as the official honorary ambassador for the 2018 Winter Pyeongchang Olympics. The international sports event will take place from Feb. 9-25, 2018 in Pyeongchang County, South Korea.
© 2023 Korea Portal, All rights reserved. Do not reproduce without permission.