Danny Fitzgerald's $50 Million House Notorious For Celeb Parties; Angers Neighbors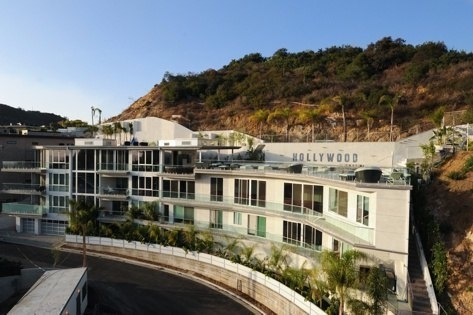 Danny Fitzgerald's multi-million dollar, four-mansion compound is Hollywood's most notorious party house, according to Daily Mail.
The real estate developer's 46,000 square foot compound boasts of 51 bathrooms and 32 bedrooms. Located on Weidlake Street, in the Dell section of the Hollywood Hills, the compound is on the market for $50 million.
Fitzgerald has rented out the glass-and-steel mansions to Middle Eastern royalty, celebrities who party hard, porn studios, retreats and reality show casts.
An abundance of wild parties and a recent emergence of an unpermitted lion, have truly set the neighbors off.
More than 90 calls to law enforcement have been made and last summer, Mike Feurer sent Danny Fitzgerald a nuisance letter, according to The Hollywood Reporter.
The letter notifies Danny Fitzgerald that if one more tenant racks up a citation, he would be criminally liable. Complaints from the residents include public urination, a suspect with a gun, and the lion.
"It's like a cancer," says Hollywood Dell Civic Association head Patti Negri. "There's drunken people throwing bottles, going to the bathroom on people's lawns."
Set designer Cynthia Martinez lives nearby and her experience is not far from Patti's. "When the cars start coming up at 1 or 2 o'clock in the morning, it's really a drag," says Cynthia. "I wake up at 4 to be on set at 6, so if people are partying through the night, I don't get to sleep."
Fitgzgerald has been renting out his places and is rarely vacant. Stars like The Weeknd, Justin Bieber, Zendaya and Mark Zuckerberg have stayed at his mansions.
None of it is bothering the real estate developer. "They don't want anyone building, they don't want anyone having fun, they don't want anyone filming," says 56 year old Fitzgerald. "I call them a vigilante group. Tell them to buy my houses!"
Danny Fitzgerald is not new in the building business. He designed the ultimate party pad, keeping in mind it should be able to withstand a few hits. The materials in the houses were selected based on the idea that a lot of people will be using it, according to Curbed LA.
Fitzgerald sees himself not as an annoying neighbor, but as a victim.
© 2020 Korea Portal, All rights reserved. Do not reproduce without permission.