Song Kang Ho Plays Taxi Driver In Film With Thomas Kretschmann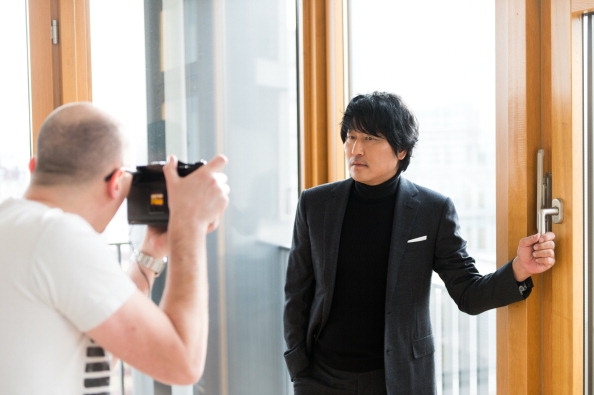 South Korean actor Song Kang Ho is not new to co-starring with foreign actors in a film. After starring with Hollywood stars Chris Evans, Tilda Swinton and Octavia Spencer in "Snowpiercer" in 2013, Song will play the title role in the upcoming historical drama film "A Taxi Driver" with German actor Thomas Kretschmann.
Written by Eom Yuna, "A Taxi Driver" is set in May 1980. It is about a taxi driver from Seoul named Man Seob (Song) who gets involved in the reporting of the Gwangju Democratization Movement events by a German journalist named Peter (Kretschmann).
Man Seob is left with costly hospital bills after the death of his wife and he has to raise their young daughter alone. He then takes the job offered by a foreigner who is willing to pay big salary for a drive down to Gwangju City and back.
Unbeknownst to Man Seob, the foreigner is a journalist with a hidden agenda. Kretschmann's character wants to go to Gwangju to do some investigation.
In real life, more than 600 people died during the Gwangju Democratization Movement. On June 8, Kim Yi-su, President Moon Jae-in's nominee for the Constitutional Court Chief Justice, apologized for handing down guilty verdict to anti-government protesters in the uprising, Korea JoongAng Daily reported.
Initially, Kretschmann turned down the offer to appear in "A Taxi Driver." He explained this during a recent press conference for the film in Seoul, Yonhap News reported.
"There was much pressure to join the film on the tragic modern Korean history," Kretschmann said. "It was a kind of healthy sense of pressure like, 'Can I really do this?'"
Eventually, Kretschmann agreed to star in "A Taxi Driver" with Song. Joining them in the cast are Yoo Hae Jin as Driver Hwang, Ryu Jun Yeol as Jae Sik, Park Hyuk Kwon as Reporter Choi and Daniel Joey Albright as BBC newbie reporter David John.
Evans has co-starred in a film with both Song and Kretschmann. After starring in "Snowpiercer" with Song in 2013, Evans starred with Kretschmann in "Avengers: Age of Ultron" in 2015.
© 2023 Korea Portal, All rights reserved. Do not reproduce without permission.