'Diablo 3' 'Rise of the Necromancer' To Arrive Sooner Than Expected; Necromancer Builds Teased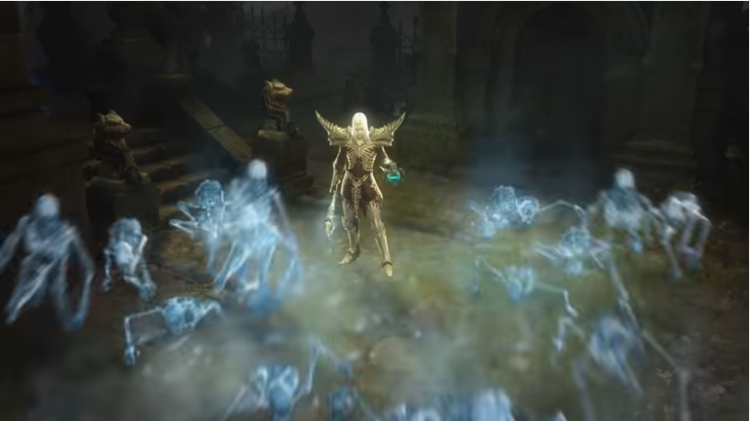 One of "Diablo's" iconic characters is bound to make a comeback in "Diablo 3" as Blizzard Entertainment officially nailed a release date for such content. The new update - "Rise of the Necromancer" - as the title suggests, heralds the return of one of the lore's darkest character.
Blizzard recently released a teaser trailer for "Diablo 3's" "Rise of the Necromancer." The 80-second video featured a glimpse of the things the developer are about to drop once the add-on goes live. Just like the current roster of heroes within the hack and slash RPG, the Necromancer can be played on either adventure or campaign modes not to mention that it will have male and female versions of the inbound hero.
Alongside the new "Diablo 3" content, the Necromancer will be having a pet of his own - a half-formed golem. However, Gamespot noted that the hero's companion is "non-combatant." Long-time gamers of the title will also be getting a portrait frame, a couple of character slots and stash tabs that are PC platform exclusive.
Over 30 legendaries and four new class sets are bound to arrive in "Diablo 3." Moreover, Necromancer builds were also showcased on the video which includes the Pestilence Master's Shroud, Trag'oul's Avatar, Grace of Inarius, and Bones of Rathma.
"Diablo 3's" "Rise of the Necromancer" will go live this June 27 and will be priced at $15. Newbies, on the other hand, can still download the "Eternal Collection" variant of the RPG title that will have both the main game and the aforementioned Necromancer patch at a limited promo price of $40. It was not disclosed as to when the promo would end. Nonetheless, after such sweet deal, it will be regularly tagged at $60, according to Game Zone. Check out a video about the upcoming content here:
© 2021 Korea Portal, All rights reserved. Do not reproduce without permission.