'Fight For My Way' Episode 10 Spoilers, Watch Online: Dong Man, Ae Ra Romance Heats Up As Pals Become Lovers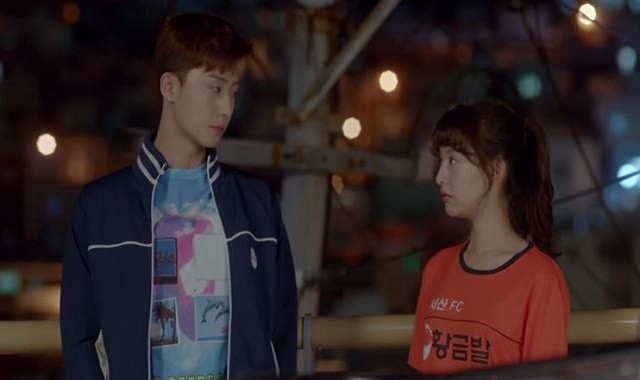 Friends will soon discover that their platonic bond has bloomed into something romantic in the upcoming "Fight For My Way" episode 10. Latest spoiler news teased of the potential start of Dong Man (Park Seo Joon) and Ae Ra's (Kim Ji Won) relationship.
Avid viewers can look forward to funny and romantic scenes between the lead characters Dong Man and Ae Ra in "Fight For My Way" episode 10. After the two friends found themselves waking up together in the same bed following a drinking bout, their accidental night together will further change their relationship. However, it appears that Dong Man and Ae Ra will try to deny their growing feelings for one another.
The teaser clip for "Fight For My Way" episode 10, as released by KBS, also showed the rookie mixed martial arts fighter in a tense discussion with his former girlfriend Hye Ra (Lee Elijah). When asked why he did not date Ae Ra in the past, Dong Man will highlight his close bond with his childhood friend given their 20 years together.
Desperate to get back together with Dong Man and worried over the said athlete's closeness with Ae Ra, Hye Ra will claim that the two longtime friends can never start dating each other. Despite Hye Ra's attempts to convince her former beau to get back together with her, the athlete will continue to rebuff the said character's efforts in "Fight For My Way" episode 10. Moreover, Dong Man and Ae Ra will admit to each other that feelings have changed and some of their actions would befit lovers than friends.
Dong Man will also remain supportive of Ae Ra following an incident at a festival that might cost the aspiring announcer her event hosting job. With the latter tasked to act as a replacement emcee for the second-day festivities of an event, it appears that Hye Ra's sudden appearance at the same festival might push the organizers to tap the famous announcer as their host instead of Ae Ra. Watch "Fight For My Way" episode 10 online on Viki, here.
In other news, the Park Seo Joon and Kim Ji Woon starrer recently posted its highest TV rating since the KBS drama released its first episode. Aired on June 19, Monday, "Fight For My Way" episode 9 posted viewership shares of 12.1 percent across the South Korean nation, according to Nielsen Korea. In the Seoul metropolitan area, the said episode registered ratings of 13.5 percent.
"Fight For My Way" airs every Monday and Tuesday on KBS. Watch the teaser clip below:
© 2018 Korea Portal, All rights reserved. Do not reproduce without permission.