G-Dragon & Sandara Park Dating: Sandara Copies G-Dragon's Style Again!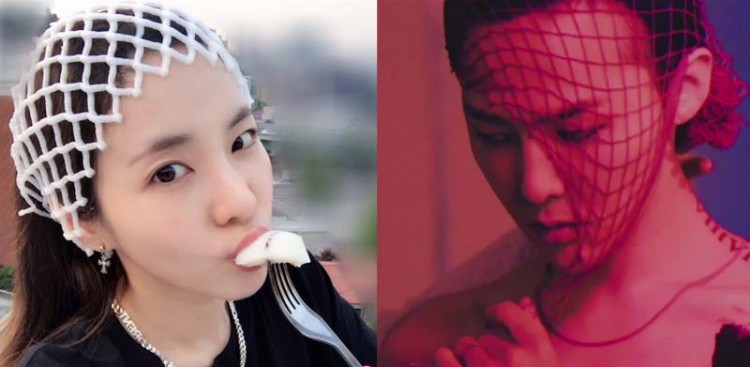 Sandara Park is copying G-Dragon's style once again, sparking fresh dating rumors between the two K-pop superstars. In her latest Twitter post, Sandara gets creative with a fruit net and uses it as a headband.
On her Twitter post, which Sandara captioned "Sandara's fruit net look for summer," it didn't escape fans' attention that the look was very similar to one of G-Dragon's looks in his recent "Act III: MOTTE" concert. This made Applers, or shippers of Sandara and G-Dragon, collectively known to as Daragon or Nyongdal reminisce previous photos of the rumored sweethearts' similar looks.
This was not the first time that fans were able to connect the looks of Sandara and G-Dragon. In fact, many fans have been speculating that the rumored couple has been borrowing stuff from each other for years ranging from hats to shoes to coats and other accessories.
Recent dating rumors between Sandara and G-Dragon have resurfaced following Sandara's attendance to G-Dragon's "Act III:MOTTE" kick off concert in Seoul where she was spotted keeping a low profile among the audience. The former 2NE1 member was seated beside G-Dragon's fellow BIG BANG members Daesung and Taeyang and was snapped by fans as she prepared to take photos of the concert. However, fans noticed that Sandara was not part of the photos uploaded by CL on her Twitter even though they were seen in the concert chatting earlier, Korea Portal reported.
This led to speculations that Sandara may have left the concert early to avoid a repeat to the viral incident in January where G-Dragon was spotted protectively shielding Sandara while exiting the venue for a BIG BANG concert. YG Entertainment claimed that the two YG artists were merely playing a prank to bait a reaction from fans but nonetheless, fans remained unconvinced that it was a joke based on G-Dragon's protective body language.
© 2018 Korea Portal, All rights reserved. Do not reproduce without permission.