Emotions of 'Produce 101 Season 2' Top 11 Revealed In Post-Finale Videos
by
Ella
/ Jun 19, 2017 11:12 AM EDT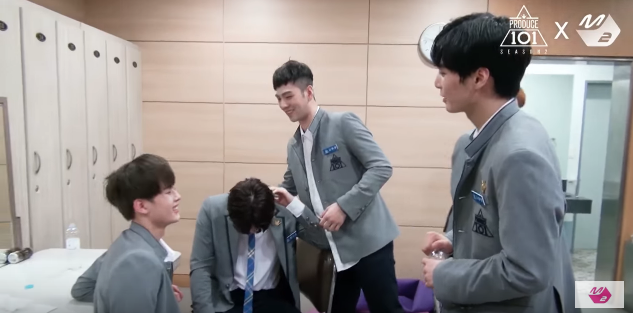 Mnet gave fans a glimpse into the emotions of the 11 winners of 'Produce 101 Season 2' after their names were called in the season finale. In the series of videos, each winner was recorded throughout the whole announcement and after the show recording. We see the 11 boys display different emotions like joy, happiness, celebration, and in some cases, sadness over eliminated trainees.
Top 1 Kang Daniel was all smiles as he sat on the #1 throne after the top 11 winners of 'Produce 101 Season 2' were announced. After the live broadcast, he is seen being congratulated by trainees, one of them being YGK+ eliminated trainee Kwon Hyunbin. Hyunbin is seen crying while he and Daniel make their way backstage. "Why are you crying?" Daniel teased him. It turns out Hyunbin was crying for Pledis eliminated trainee Kim Jonghyun. Hyunbin then went on to weep on Daniel's shoulder as Daniel embraced him and comforted him by saying, "No matter what happens, he'll succeed wherever he goes." Hyunbin, Daniel, and Jonghyun were together in the 'Sorry Sorry' team during the show where Jonghyun helped and guided Hyunbin when he couldn't focus.
Hwang Minhyun, who secured the top 10 position, is seen crying throughout the whole behind-the-scenes video. At first, he looked joyful as he sat down on his chair. But as soon as the entire top 11 was announced, you can see Minhyun tearing up. It is most probably due to the fact that other fellow NU'EST members did not make it. While others were gathered onstage hugging and celebrating, Minhyun is seen crying by himself at the back, not joining the huddle.He is then later approached by Cube trainee, Seonho. Seonho is known to adore Minhyun in 'Produce 101'. Seonho tries to cheer up Minhyun and even wipes away his tears.
Not much later, NU'EST members Dongho and Jonghyun approach Minhyun and give him a hug. Backstage, Minhyun continues to cry while Dongho and Jonghyun tease him. "Everyone here is laughing, why are you crying," Jonghyun laughed. "At least one of us made it. That's enough for us," Dongho told Minhyun. You can see more of the 'Produce 101 Season 2' top 11 behind-the-scenes videos featuring Wanna One members Park Jihoon, Ong Seungwoo, Park Woojin, and more on Mnet's Youtube channel, M2.
© 2018 Korea Portal, All rights reserved. Do not reproduce without permission.