BTS To Launch Their Own Cosmetic Line In June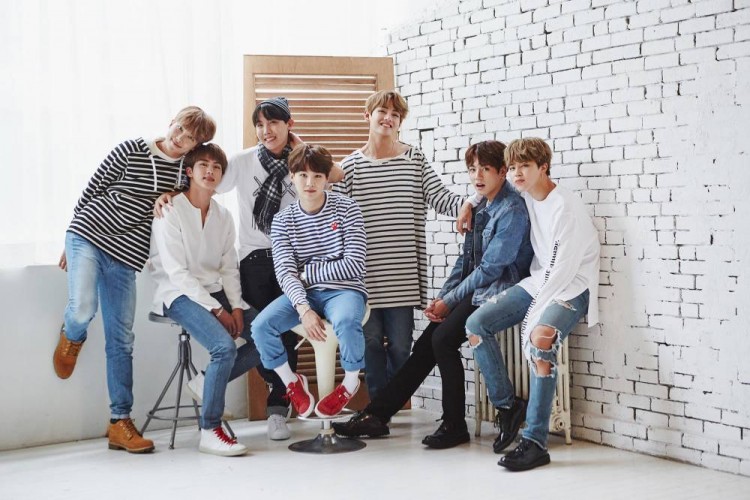 BTS, also known as Bangtan Boys, has clearly proven that they are the best Korean boy group out there right now. The group has not only been gaining international recognition but has also decided to venture on a new endeavor. BTS is reportedly launching their own cosmetic line.
It has been revealed that BTS will be collaborating with VT Cosmetics to release a new line of beauty products that features the group and its members. The new cosmetic product will be called BTS x VT Essence Sun Pact. The gold packaging will come in seven different colors for the top, namely blue, gray, green, pink, purple, white, and yellow. The colors chosen will represent the various personalities of the members of the group. The inside of the sun pact actually looks unique as it is a marble of white and blue.
There is also a BTS Hand Cream Collection, which is a box containing seven different designs featuring the faces of each member. The hand cream tubes are also customized with the member's official autograph sign. In addition to the beauty products, buyers will also get exclusive photo cards featuring solo picture stills of the boys. Personnel from VT Cosmetics have explained that they are aiming the products at teenagers and people who are in their twenties. Since BTS has a worldwide fan base that adds up to 4 million fans, the collaboration was decided and made possible.
BTS x VT Essence Sun Pact will be launched on June 16. It will be made available all over South Korea and overseas as well. Fans and interested buyers may purchase the products through the official website of VT Cosmetics. The boys are off to great heights as they continue to engage in various and new opportunities. BTS was recently hailed as global icons for the recognition of their music and fashion and the new cosmetic lying will surely bring in more attention for the Big Hit Entertainment group.
© 2019 Korea Portal, All rights reserved. Do not reproduce without permission.