Ian Somerhalder, Nikki Reed Divorce: Nina Dobrev's Ex Chose Family Over Career? 'Twilight' Actress Majorly Caused 'The Anomaly' Star's Career Failure? [RUMORS]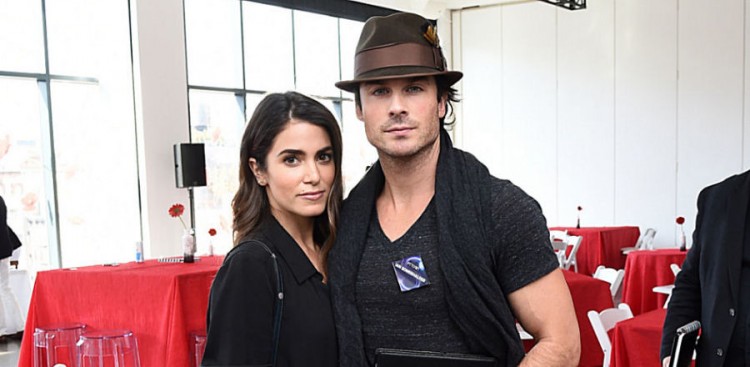 Ian Somerhalder and Nikki Reed divorce reports have been dominating the headlines for quite some time now even after the couple has already debunked the rumors, Now, new reports are claiming that the former boyfriend of Nina Dobrev could possibly become another forgotten Hollywood actor.
Blasting News reported that the showbiz career of Ian Somerhalder could possibly be in danger after he announced that Nikki Reed is pregnant. According to reports, the ex-beau of Nina Dobrev has decided to focus on the pregnancy of his wife as they prepare for their first bundle of joy.
Sources have claimed that Ian Somerhalder wants to become a good father to his upcoming baby by taking good care of Nikki Reed. According to rumors, the former "The Vampire Diaries" lead actor had to stay away from the spotlight to fulfill his duties as a husband and a soon-to-be father.
However, reports have it that Ian Somerhalder has been getting fewer project and endorsement offers since "The Vampire Diaries" Season 8 came to a close. There have been claims saying that the career of "The Anomaly" actor was badly affected by his breakup from Nina Dobrev.
There is no denying that Nina Dobrev played a vital role on the success of Ian Somerhalder. Hence, several followers of Nikki Reed's husband were shocked when the actor had decided to live a life without the good pal of Glen Powell.
Korea Portal has previously shared that there are reports claiming that Ian Somerhalder and Nikki Reed have been facing financial problems. Reports have claimed that the couple's predicament started when the actor started getting a few gigs.
There were even claims saying that Ian Somerhalder is blaming Nikki Reed for their financial crisis at the moment. Aside from that, there are also reports saying that it is the "Twilight" actress who provides the needs of the family after she publicly revealed that she launched her own clothing line.
Up until now, Ian Somerhalder and Nikki Reed have yet to comment on these rumors about their alleged financial problems. So, fans should take things lightly until everything is proven true and correct. Stay tuned to Korea Portal for more details about the alleged Ian Somerhalder and Nikki Reed divorce!
© 2019 Korea Portal, All rights reserved. Do not reproduce without permission.