Ian Somerhalder, Nikki Reed Divorce: Nina Dobrev's Ex Blames 'Twilight' Actress For Money Problems? 'TVD' Actor Regrets Dumping Glen Powell's Pal? [RUMORS]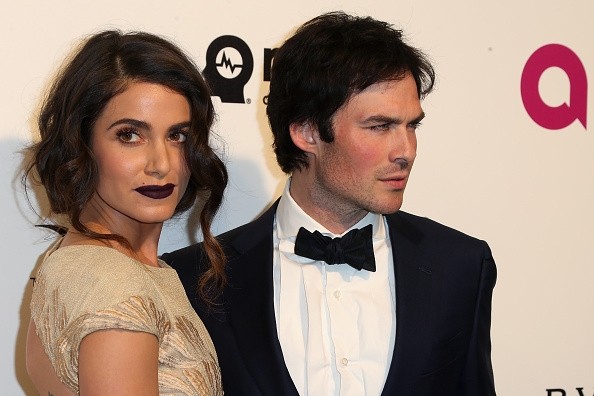 Rumors are rife that Ian Somerhalder and Nikki Reed are currently not happy with their marriage despite the fact that they have recently announced they are now expecting their first child together. Now, new reports are claiming that the former beau of Nina Dobrev is putting the blame on the "Twilight" actress as he is now getting lesser projects and endorsements.
Blasting News reported that Ian Somerhalder and Nikki Reed have been fighting like cats and dogs lately due to financial crisis. According to the news outlet, "The Vampire Diaries" Season 8 actor has been having a hard time managing their finances since the vampire-themed series ended.
Speculations have it that the career of Ian Somerhalder has been greatly affected by his split with Nina Dobrev in 2013. According to sources, there is no doubt that the "Let's Be Cops" actress is among the main reasons why the husband of Nikki Reed has risen to fame -- because of their successful and popular tandem in "The Vampire Diaries" series.
Right now, Ian Somehalder is allegedly in regrets for choosing Nikki Reed over Nina Dobrev. Celebeat has even shared that there are reports claiming that "The Anomaly" actor is blaming his own wife for his failing showbiz career.
Despite this, both Ian Somerhalder and Nikki Reed have maintained a strong front as they appear together often recently. As a matter of fact, the couple was spotted in Soho House in Malibu during the 29th birthday dinner of the "Twilight" actress.
Ian Somerhalder even posted a very sweet message for Nikki Reed on Instagram. "Thank you for your tireless pursuit of spreading good, being an instrument of change and seamlessly weaving the complex threads of our lives together into the warmest, softest and most magical blanket," the better half of Nikki Reed has written in the caption, hinting that everything is doing very well between the couple.
Ian Somerhalder and Nikki Reed have yet to comment on these divorce rumors. Stay tuned to Korea Portal for the latest news and updates about the alleged Ian Somerhalder and Nikki Reed divorce.
© 2019 Korea Portal, All rights reserved. Do not reproduce without permission.