'Red Dead Redemption 2': Game To Come With New Features
by
Kriti
/ Jun 02, 2017 04:31 AM EDT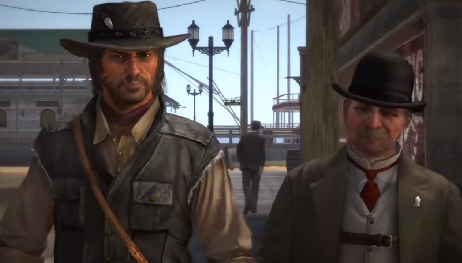 Several reports published recently have provided several updates to the upcoming "Red Dead Redemption 2" gaming-series. If rumors are to be believed then it appears like "Red Dead Redemption 2" is going to come featuring completely new weapon storage. Players will further be availing the first-person mode of the game as well. Apart from this, players also are able to play the Take-Two Interactive version in the upcoming game.
According to an online report that was published recently, it seems like the "Red Dead Redemption 2" is set to receive certain updates. A new rumor taking the rounds on the internet suggests that the game might feature an additional first-person mode game along with Take-Two Interactive version.
It seems like prominent leakster Tezfunz2 took to Twitter to reveal this piece of information. According to the information revealed by him, it seems like the game is going to receive a new update which will allow users to play the game in the first-person mode. As fans may already be aware, the first-person mode is widely popularized through the "Grand Theft Auto" series. However, fans speculate that the first-person mode will be widely successful through the "Red Dead Redemption 2" game in comparison to the former.
Separately, a Reddit user that goes by the name of "Montana Cowboy" also recently posted something on the platform suggested the second possible feature in the upcoming "Red Dead Redemption 2" game. As per the information posted by him, it seems like the game will be receiving few more characters that will be able to make use of hand-held weapons such as rifles as well as hand-grenades.
To recall, it was previously reported that "Red Dead Redemption 2" is expected to come with a single-player protagonist instead of multiple players controlling the story-line of the game. The game is expected to launch in the first half of 2018.
© 2023 Korea Portal, All rights reserved. Do not reproduce without permission.