Meet The 25-Year-Old Behind The Museum Of Ice-Cream
by
Mudit
/ May 24, 2017 07:46 AM EDT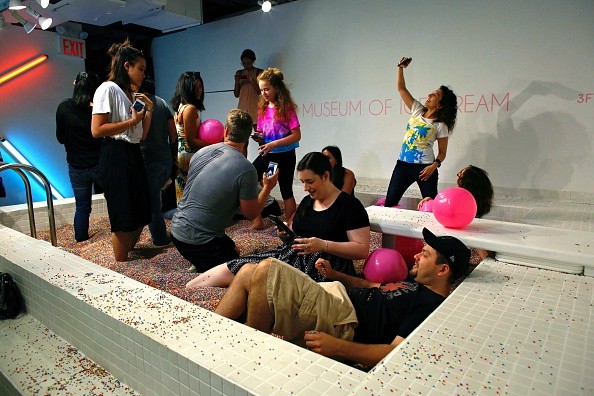 In the busy downtown of Los Angeles, California tucked away among the bustling neighborhoods, lies the quiet and unique museum of Ice Cream. People lucky enough to visit the museum are awestruck by its sheer scale and color. The hanging popsicles from the wall are enough to make anyone feel small. The museum is filled with Ice Cream art installations that include a sprinkle covered floor as well. The museum has been made by the extremely talented artist from Laguna beach: Maryellis Bunn.
The Museum charges a nominal fee of $29 to every one of its customers and it is frankly worth it to see the popsicle sculptors that seem to be melting through walls. The museum also has a 4-foot-deep cement pool that is filled to the brim with 'plastic' sprinkles making it the most sought after heaven of every ice cream lover.
The museum will remain open until August 15 for now, and almost all of the tickets have been sold out. There are of course indications from the makers that the museum could be open much longer than that, but there is no confirmation as of yet.
On the occasion of Mother's Day, the museum was greeted by the presence of Beyoncé, Jay-Z, Katy Perry and Gwyneth Paltrow. The museum had first opened back in summer in the city of New York for a total of 45 days. Like expected all the tickets for New York City were sold out in a matter of days leaving almost 200,000 people on the waiting list.
The Museum of Ice Cream is the innovation of Maryellis Bunn - she is a 25-year-old artist from the Laguna Beach of California who is extremely passionate about her work. You can read her detailed interview at this link in which she talks about the museum and her inspiration behind it.
© 2018 Korea Portal, All rights reserved. Do not reproduce without permission.