Scientists Finally Know How Ladybugs Fold Their Wings: Watch the Video
by
Mudit
/ May 21, 2017 08:52 PM EDT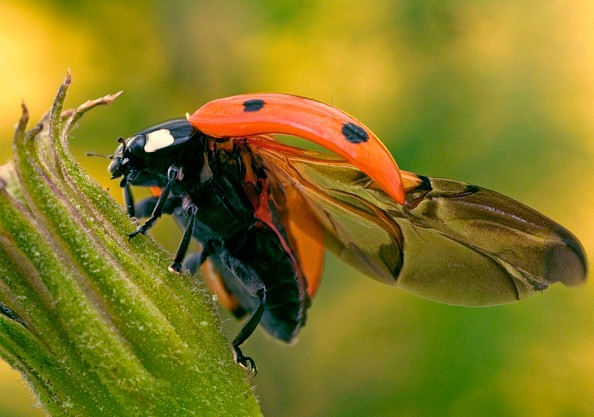 With the help of high-speed cameras, CT scanners and some stationary supplies, scientists at a university in Japan have managed to record the elaborate way in which a ladybug folds its wings. You can watch the video right here.
A ladybug has a hard protective covering on the outside of their wings which is red in color with black dots. A ladybug's wings are tucked beneath this shell. Scientists were always baffled as to how wings could fold into such a small space and yet be ready for flight whenever needed.
The findings of scientists could have applications all around the world in various different industries like Aerospace engineering, aeronautical engineering etc. Who knows, they can come up with the world's smallest umbrella after this.
The study was published in the Proceedings of the National Academy of Sciences, this week. The study explores, how ladybugs are able to have strong enough wings to support their weight but are flexible enough to fold up and be tucked away under the back plates of the insect.
The researchers the proceeded to explore how the ladybug retracts its wings and ended up capturing this amazing footage. The ladybug folds its wings after the wing case is put down, making it impossible for the researchers to see the process. The scientists thought of an ingenious way to solve this problem and fitted the ladybug with a transparent wing case made out of nail-art resin.
This allowed the researchers to get a complete unhindered look at the ladybug's process of tucking in its wings. The ladybug's technique for complex folding is unique and very valuable for scientists in the field of robotics, mechanics, aerospace etc.
© 2018 Korea Portal, All rights reserved. Do not reproduce without permission.