'Produce 101' Season 2 Episode 7: Updates, News & Spoilers
by
Ella
/ May 20, 2017 06:10 AM EDT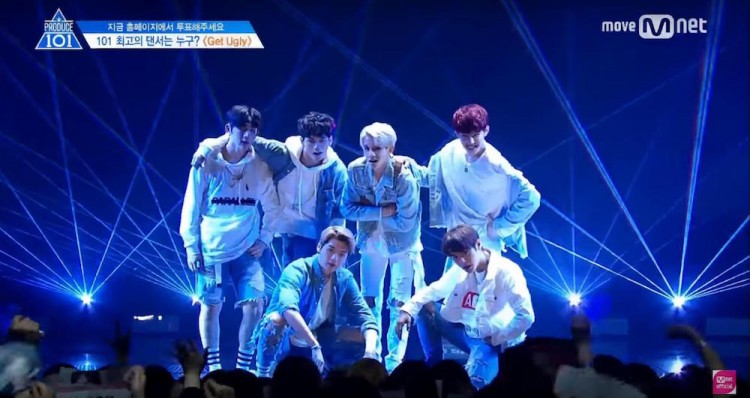 The 7th episode of Produce 101 Season 2 aired on Friday, May 19 and fans witnessed another slew of surprising twists and turns. Which contestants topped and which tanked?
Last week, Produce 101 trainees were divided and grouped amongst themselves for position evaluation through performances of rap, vocal, and dance. In the last episode, we saw performances of Black Pink's 'Playing With Fire', Florida's 'Right Round', Jung Seung Hwan's 'If It Is You', Zico's 'Boys and Girls', Ed Sheeran's 'Shape of You', and Song Min Ho's 'Fear'. The first batch of groups received a lot of praise as soon as individual fan cams were uploaded by Mnet.
On the latest episode of Produce 101, it was the remaining groups' turn to show their impressive performances. For the vocal groups, they were given BTS' 'Spring Day', BoA's 'Amazing Kiss', and IOI's 'Downpour'. For the dance groups, they had to perform N Sync's 'Pop' and Jason Derulo's 'Get Ugly'. And for the rap groups, the songs available were 'Who You' by Simon Dominic, One, G2, and BewhY, and 'Rhythm Ta' by iKON.
As previously announced, trainees who top each song will get the benefit of receiving 10,000 votes while the winners of each category will automatically get 110,000 votes. Trainee Lee Keon Hee snatched the #1 spot for vocal, earning a total of 717 votes. For the dance category, it was notorious dancer Noh Tae Hyun who won 1st place with 621 votes. And for the rap groups, Pledis trainee and NUEST member Kim Jonghyun bagged the number 1 rank, raking in 665 votes. As a result, Noh Tae Hyun, Lee Keon Hee, and Kim Jonghyun all automatically gained 110,000 votes each.
As for the ranking of trainees for each category, Produce 101 viewers and fans were surprised once again to find that the usual favorites did not top. An example of this is Brave trainee Kim Samuel, who was part of the 'Get Ugly' team. He only managed to rank 23rd place with only 350 votes. Top contender and all-around favorite trainee Park Ji Hoon came in 2nd place after unexpectedly talented trainee Park Woo Jin won the audience's heart and snatched the 1st place in their group.
Several trainees were seen tearing after viewing the results of their position evaluation ranking. Fans of the program had mixed reactions after the program; some celebrated while others expressed bitterness over the rankings. What's in store for the contestants in the next episode? Will the popular trainees redeem themselves and climb back to the top? Stay tuned for more updates of Produce 101 Season 2.
© 2018 Korea Portal, All rights reserved. Do not reproduce without permission.