BTS Updates: Boys Captured On Their Way To Attend Billboard Music Awards!
by
Ella
/ May 20, 2017 06:09 AM EDT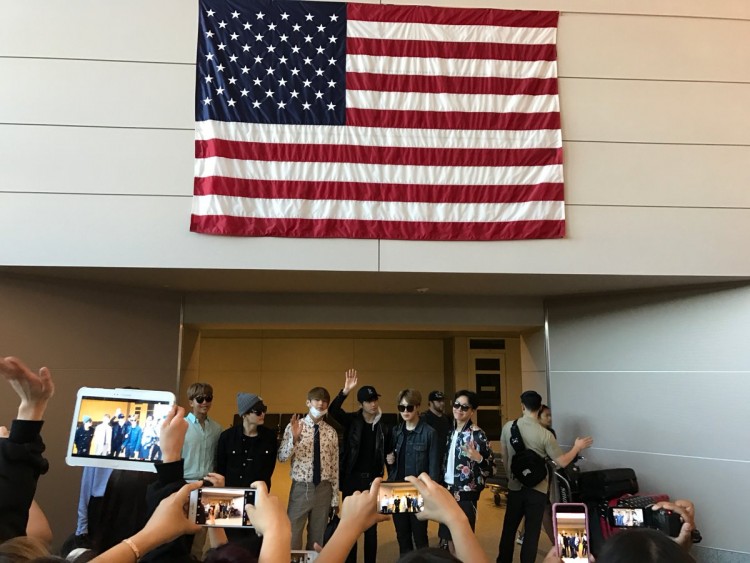 BTS is finally on their way to Las Vegas! Following Big Hit Entertainment's announcement that the members are going to attend the 2017 Billboard Music Awards, fans have been anticipating for this day to come.
On May 19, BTS members were sighted at the Incheon International Airport sporting chic and fashionable looks. While some members chose to look more casual wearing ripped jeans, others donned a much more formal and stylish ensemble like dress shirts with neckties. Unsurprisingly, fans of BTS and press flocked to the airport to catch a glimpse of the boys before their departure to Las Vegas and make their first appearance at the Billboard event.
BTS is attending the Billboard Music Awards as nominees for 'Top Social Artist'. Notable nominees in this category include phenomenal superstars like Justin Bieber, Selena Gomez, Ariana Grande and Shawn Mendes. BTS will be the first ever K-pop group to be nominated and invited to the Billboard Music Awards.
BTS fans, ARMY, have been preparing for this event to take place. After all, they have been the driving force behind the group's recognition in the west. ARMYs have been mobilizing a hashtag revolution on social media to help BTS bag the Billboard spot. Fans of big western artists have even commended the fandom, acknowledging them as a force to be reckoned with. So it's not a far-fetched dream for BTS to take home the award. Though naysayers have been belittling the significance of the award, ARMYs defended by saying that the nomination is still a notable feat for any K-pop group as no other Korean group has been acknowledged this way in the past. If the boys come back with the prize, it will be a huge achievement no matter what.
As of writing, the boys have already landed safely in Las Vegas and will prep for the anticipated event. Catch the boys of BTS make their first appearance on the red carpet of the Billboard Music Awards on May 21. Best of luck, BTS!
© 2018 Korea Portal, All rights reserved. Do not reproduce without permission.