'Vikings' Season 5 Update: Katherine Winnick Shares Celebration Picture On Instagram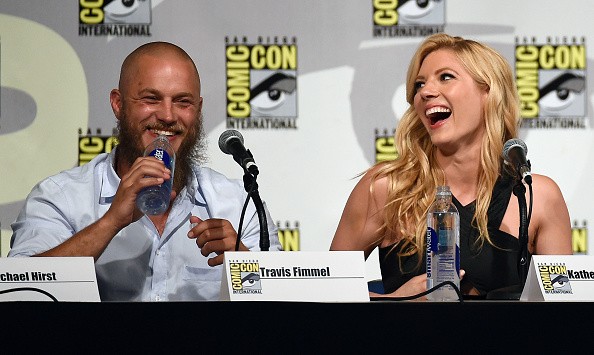 After leaving the fans with a serious cliffhanger at the end of season 4, the production of the historical drama TV Series "Vikings" Season 5 has been officially finished as well. There have been many speculations regarding survival and death of the characters, but the latest picture shared by Katheryn Winnick may provide a fair idea of which characters have survived.
According to Silver times, "Vikings" Season 5 filming is done that took place in Ireland, Iceland and Morocco and Queen Lagertha (played by Winnick) shared a picture on her Instagram stating "That's a wrap, Season 5 of "Vikings" is complete!!" that indicates Lagertha and one of King Lothbork's sons have been spared for Season 6. So, does it mean his fourth son Ivar the Boneless didn't make it to the next season of the historical series? Well, fans will soon find out.
In an interview with IFTN a few days ago, the executive producer Morgan O'Sullivan confirmed that "Vikings" Season 5 will be wrapped by May 8 that took over a year to complete. The announcement date is expected to announce soon, and even though the shooting may be done, the post production could take some time. Still, fans are eagerly waiting for the first half of the season to be aired soon, reports Celebeat.
As seen in the shared picture by Katherine, the cast of "Vikings" looks incredibly happy, celebrating the wrap of the current season. The picture features Katherine herself along with Jordan Smith (Ubbe), Jennie Jacques (Princess Judith), Darren Cahill (Aethelred), Isaac O'Sulivan (Alfred), Georgia Hirst (Torvi) and Jasper Paakkonen (Halfdan the black).
However, seeing the picture, many speculates that the characters who aren't available in the picture might already be dead, which is still too soon to believe. Although it could be the case with few ones. "Vikings" Season 5 is expected to hit the Television later this year.
© 2018 Korea Portal, All rights reserved. Do not reproduce without permission.