Florist Decorates New York With 'Flower Flashes' In Most Unlikely Places
by
Ella
/ May 19, 2017 09:03 PM EDT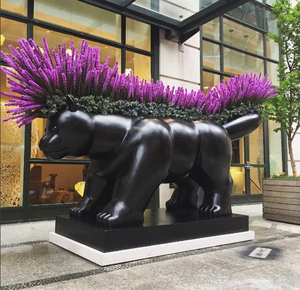 A florist has been giving New Yorkers joy by decorating the city streets with beautiful floral arrangements. Elaborate bouquets and flower decors can be seen all over the unlikeliest places in New York - trash cans, on top of sculptures, public parks, and so on. Lewis Miller, the person behind the cute little project, is a party and wedding florist who just wants to bring joy to citizens. Miller told Vogue that he calls them 'Flower Flashes', where he places surprise flower arrangements for passersby and onlookers to ogle at and take Instagram photos of.
Miller told Vogue, "Gifting flowers to New Yorkers is a simple idea that I have been thinking about for years," He added, "I am in the business of fantasy and flowers, and it's my job to transform key moments in my clients' lives into joyful, everlasting memories. I wanted to recreate a similar feeling for the everyday city-dwellers and tourists of New York City."
During the recent Met Gala, Miller did a little tribute by beautifying the famous Crosby Street Hotel cat statue with a mohawk-like flower arrangement to give it a punk style. How does he do his magic in the busy and crowded steets of New York? According to Miller, "My team and I work really fast and very early in the a.m," he continued, "Our call time for these flashes is 5:45 a.m., and we try to finish them before sunrise. We always recycle flowers from events when possible."
Though Miller and his team of floral magicians never announce beforehand where they will do a 'flower flash' next, they sometimes leave a signature in spray paint that says hashtag LMD x NYC on every floral installation. People then can easily use the hashtag when they take photos of their designs.
The floral team is planning to expand their work of art to other cities like Mexico, Los Angeles, and Chicago. Miller expressed that he wished for some funding for their future floral endeavors outside New York but emphasized that his main and ultimate goal is just to bring beauty to New York.
© 2018 Korea Portal, All rights reserved. Do not reproduce without permission.