'ARK Survival Evolved PS4 & Xbox One Update: 4 Prehistoric Creatures, TEK Gears, Grenades, Turrets And Funky Hairstyles Included In Game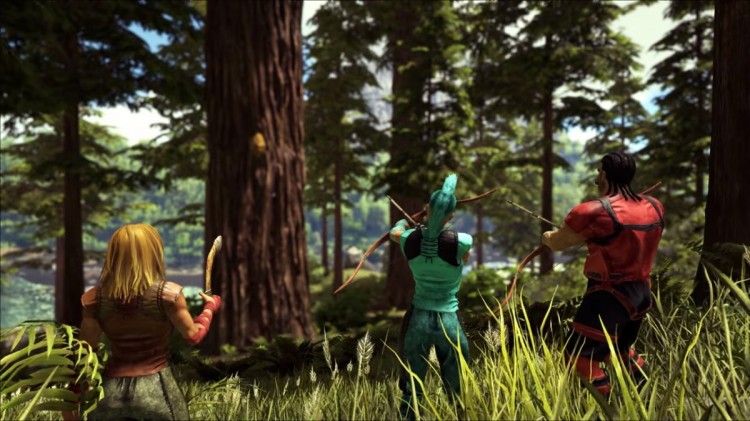 The new "ARK Survival Evolved update for PS4 and Xbox One is now available to download. The PS4 patch occupies the size of 8.79GB while the Xbox One players will need 18GB of storage space to download the content. Studio Wildcard stated that Xbox One build is much older than PS and the console makers need improvement in certain areas of the console.
The new "ARK Survival Evolved update for PS4 and Xbox One features four prehistoric creatures including Apis Lithohermaea, Liopleurodon Magicus, Kentrosaurus Aethiopicus and Daeodon Comedentis. Besides the developers even wanted to include Megaldon's worth of additions and more futuristic TEK Gears like turrets and grenades. The developers have created a futuristic feel in the gameplay by adding funky hairstyles, latest music tracks and by modernizing the volcano.
According to Express, the "ARK Survival Evolved" PS4 and Xbox One players can find approximately 20 new Explorer notes, 15 new music tracks and APEX Loot for all Alpha creatures. Previously, the developers applied to get the certificate for updating the content. Studio Wildcard has confirmed that critical issues were flagged by Microsoft following the certification process, leading to a delay in deployment.
When it comes to gameplay, Studio Wildcard has done an immense job by completely revolutionizing the music, hairstyles, and feel of the character. The developers have created a modern feel by using latest music, by recreating hairstyles and facing expressions and by enhancing the surroundings of "ARK Survival Evolved." It is a great move by the Studio Wildcard that has completely changed the way players evolved into the game.
Studio Wildcard has even enhanced the attacking technique with laser beams. The TEK cloning chamber of "ARK Survival Evolved" will enable the players to clone their preferred dinosaurs. According to the reports from PlayStation Life, the developers has made progressive moves in the game by introducing new content and modern feel of the gameplay.
© 2018 Korea Portal, All rights reserved. Do not reproduce without permission.