Sooyoung Talks About Boyfriend & Debuting Before Girls' Generation
by
Ella
/ May 18, 2017 08:13 AM EDT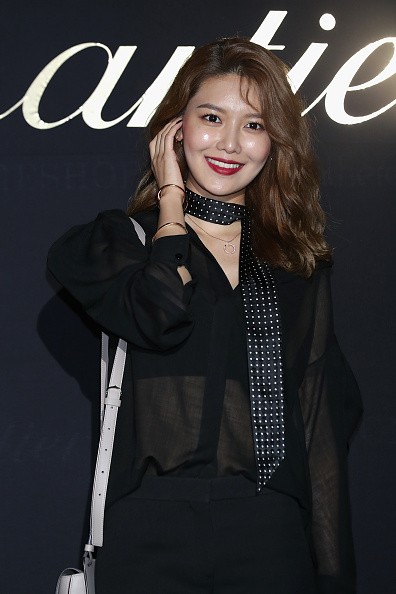 On the May 18 episode of variety show 'Taxi', Girls' Generation member Sooyoung appeared with her musical actress sister, Choi Soo Jin. In the episode, the sisters opened up about each other's ideal types. At one point, Soo Jin commented that Sooyoung's current boyfriend, Jung Kyung Ho is the perfect man for her sister.
Soo Jin even praised Sooyoung's boyfriend, saying, "He is the only man who fits Sooyoung. He doesn't get angry at all and is understanding. He does everything for her. Sometimes it looks like they're fighting but they're just joking around. Kyung Ho oppa is also very funny."
Sooyoung revealed that her ideal type is a manly guy with broad shoulders and facial hair - characteristics that coincidentally matches that of her current boyfriend. The Girls' Generation member explained, "I like a bit of the bad boy type... I like someone who is generous and loves me for who I am. As for physical appearances, I like brawny men with broad shoulders and some facial hair. The Sang Namja style (real manly man with chic style)."
Sooyoung also talked about how she debuted first in Japan before ever debuting with Girls' Generation. She said, "I actually debuted in Japan first. Not a lot of people know but there was a popular Japanese audition program titled Asayan's 'Korea Japan Ultra Idol Duo Audition' similar to 'K-Pop Star' and 'Superstar K'."
Sooyoung apparently auditioned back in 2002 and was chosen among 15,000 applicants to debut as part of an idol group in Japan. She debuted in a J-pop idol duo group called Route θ and promoted in Japan for 3 years. This is the reason why out of all Girls' Generation members, Sooyoung is the most fluent in speaking Japanese. You can even check out her pre-Girls' Generation Japanese music videos, which are still available on Youtube.
© 2018 Korea Portal, All rights reserved. Do not reproduce without permission.