North Korea Missile Launch Seen As Political Victory For Kim Jong Un
by
Pradeep
/ May 18, 2017 11:35 AM EDT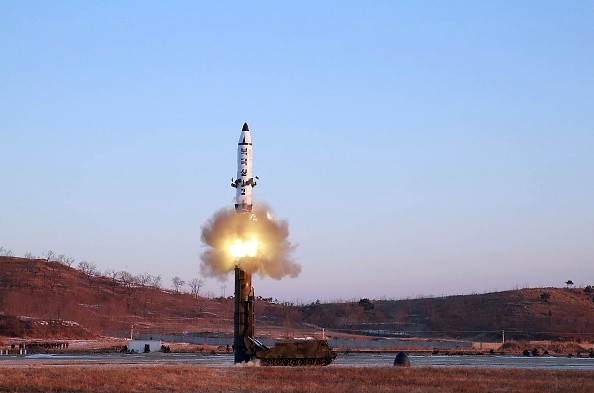 North Korea recently made the headlines for testing its ballistic missile launch, leading many to believe that this might be a new strategy towards future dominance in the nation's awide. The missile reportedly launched on Sunday and is believed to be the most powerful weapon that the nation has ever tested in the history. There are several experts that claim that the missile is powerful enough to reach Alaska or Hawaii as well.
According to a report published by The Washington Post, the successful launch of North Korea's most powerful missile is looked upon as a political victory for the nation as well. The launch of the missile has given the nation's leader Kim Jong Un a superior power over the rest that stand against the country including the United States of America and North Korea as well. The success of the missile has also boasted confidence amongst all the scientists that have been working towards making this possible since years.
Wood TV recently published an article that details out why the successful launch of this missile is looked upon as a big worry for North Korea's neighbours and especially Washington D.C.'s Donald Trump. The missile, which was launched on Sunday, was reportedly travelling approximately 800kms i.e. 500 miles at a height of 2,000kms i.e. 1240 miles in a span of half-an-hour. It is believed by scientists that the higher the flight of the missile, the longer the flight time of that particular missile will be.
The above given information was reportedly attested when North Korea's state media confirmed the estimates. An official government statement states that they were careful while launching the missile as they wanted to avoid passing through neighbouring countries. They chose to launch at a higher-than-usual angle to avoid this situation. Before the launch of North Korea's most powerful missile, an intermediate-missile called Musudan was believed to be the most powerful one.
© 2018 Korea Portal, All rights reserved. Do not reproduce without permission.