'The Sims 4' Update: Maxis Unveils New Details About Family Game Pack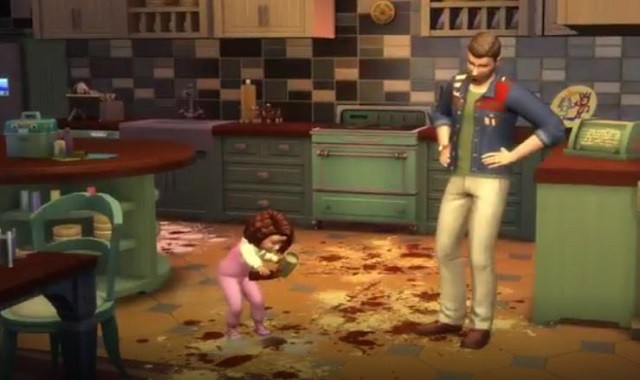 Exciting things are in store for avid "The Sims 4" fans. Game developer Maxis is set to release the official trailer for the upcoming Family-themed DLC, including its release date and gameplay elements.
Another game pack will soon be added to "The Sims 4" that will focus on family activities. Tentatively dubbed the Family-themed DLC, gamers will soon discover the various objects, "Create-A-Sim" (CAS) items and Sim interactions that developers added to the said pack. Recently, Maxis released a quick teaser video to announce the upcoming unveiling of the DLC's official trailer.
In the said teaser clip, as posted on Sims Community, the video featured a quick glimpse at a new challenge that Sim parents will soon face when taking care of toddler Sims. It appears that game developers have added new objects that will stimulate a toddler Sim's creativity but might present a big clean-up task for adult Sims in "The Sims 4."
The said "The Sims 4" video also teased of the new objects that gamers can use to redecorate in-game kitchens. Some of these items include a new refrigerator design, new sink, kitchen cabinets, wall backsplash, dish rack, tabletop magazine basket, bread keeper, a decorative plate with a kiddie art and more.
"The Sims 4" players can also expect to see several new clothing designs and CAS items such as a short curly hairstyle for female Sims. Activity-wise, the said Family game pack promo clip also teased of new ways that a Sims can bond together, as well as new parenting skills and the chance to better shape a toddler Sim's childhood.
In other news, the game's publisher Electronic Arts (EA) recently unveiled that "The Sims 4" has seen an increased number of active players. EA's CEO Andrew Wilson announced during an earnings conference call that the life simulation game has seen a year-on-year 33 percent increase in monthly active users as of the final quarter of 2016, Sims VIP reported.
"The Sims 4" official trailer for the family-themed game pack will be released on May 16. Watch the latest promo clip below:
© 2022 Korea Portal, All rights reserved. Do not reproduce without permission.