Korean-American Jimmy Choi To Run At The New York Marathon; Runner Has Completed 8 Marathons And 53 Half Marathons This Year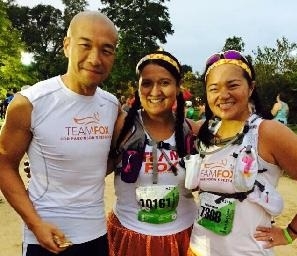 This year, Korean-American marathon runner Jimmy Choi has reportedly ran 2,000 miles, completed 53 half marathons and eight marathons despite suffering from Parkinson's disease.
Before being diagnosed with the disease in 2003, Choi was active in basketball, football and wrestling as a high school student. On April of 2012, Choi ran his first ever marathon.
According to Korea Times on Thursday, Team Fox, a research organization for Parkinson's disease of Michael J. Fox Foundation, has raised $40,000 through the Chicago-born runner's marathons.
Running has enabled Choi to "turn back the clock" on Parkinson's disease in the past three years, he told Runner's World.
His disease had made moving around very challenging that a cane was needed to aid him in walking by age 36. As he was researching on a cure for Parkinson's disease, he stumbled upon an article that featured a runner suffering from the same disease. "If he can do it, why can't I?" Choi told a magazine.
He began by participating in clinical trials where he was eventually chosen to become a test subject for a new form of stem cell therapy, noted Observer on Oct. 21. For two-and-a-half years, Choi underwent three procedures until the testing came to an end due to lack of funding. Apparently, there were no significant breakthroughs reported by the participants, but not for Choi.
"Whether or not I was a placebo, I still don't know," said Choi, "but all I know is whatever happened during that procedure, it was the beginning of a turnaround for me."
As he continued his rehabilitation process, Choi found that he was starting to feel better as he engaged himself in more activities. His walking eventually progressed to jogging until he found himself running. After receiving his last stem cell injection in 2012, Choi ran his first 5K marathon in 30 minutes.
"I'm very happy that I'm able to complete runs, but at same time, I hate what is happening to my body," he said. "After my first 5K, I was 36 or 37-it shouldn't be that big of a celebration just for me to finish a three-mile run."
Runner's World reported on Wednesday that Choi will be running at the New York City marathon along with seven other runners with Parkinson's disease on Sunday. Choi, however, prefers not to comment when asked about his goal for the upcoming marathon.
© 2023 Korea Portal, All rights reserved. Do not reproduce without permission.