Samsung Galaxy Book Price: 2-In-1 Samsung Tablet Way Better Than Microsoft Surface Pro 4? Price Starts At $629.99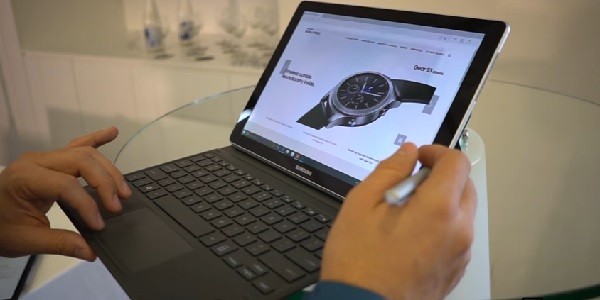 Samsung Galaxy Book line of the Windows 10 devices has been unveiled during the Mobile World Conference 2017, which aims right at Microsoft Surface Pro tablets. Meantime, the latest details on the features and price seem to suggest that the new Samsung two-in-one device offers a more valuable proposition.
Samsung Galaxy Book Specs Compete Against Those Of Surface Pro 4
The Samsung Galaxy Book has been announced to come in a 12-inch and 10.6-inch form factor, with LTE and Wi-Fi variants for users who prefer the different modes of connectivity. Reports suggest that the 10.6-inch variant features a full HD resolution via conventional flat panel display technology. On the other hand, the 12-inch Galaxy Book will feature an AMOLED display, but with a smaller resolution compared to the Surface Pro 4 despite a more vivid display.
Samsung Galaxy Book is also expected to leverage Intel's new processors, as the seventh-gen Intel Core i5 is used in the 12-inch variant, while the Surface Pro 4 stays at the sixth gen Core i5 and i7. This also means that the new chip provides the Galaxy Book an upper hand in terms of battery life.
Moreover, the 12-inch Samsung Galaxy Book includes two Universal Serial Bus type C ports, while the Surface Pro has microSD, USB-A, a Mini DisplayPort and Surface Connect Ports. Incidentally, the Microsoft tablets also offer more options for memory, up to 16 GB than Samsung's 8 GB cap. Furthermore, the Surface Pro 4 storage also goes up to 1 TB, while the 12-inch Samsung Galaxy Book tops off at 256 GB, Field Technologies Online reported.
The Samsung Galaxy Book Price Starts At $629.99
The Samsung Galaxy Book 10.6-inch with Wi-Fi variant is priced at $629.99, while the 12-inch Wi-Fi only is available at $1,129.99. Additional LTE to the bigger model will have a price jump of $1,299.99.
Meantime, the Galaxy Book 12 with LTE has started to become available in Verizon on April 21, including the pre-order of the two Wi-Fi only models in Samsung.com and select retailers like Best Buy. The device will officially be made available on May 21, The Verge reported. Check out Samsung Galaxy Book: Official Launch Film here:
© 2023 Korea Portal, All rights reserved. Do not reproduce without permission.
Tags:
Samsung Galaxy Book
,
Samsung Galaxy Book news
,
Samsung Galaxy Book update
,
Samsung Galaxy Book rumors
,
Samsung Galaxy Book specs
,
Samsung Galaxy Book features
,
Samsung Galaxy Book price
,
Samsung Galaxy Book release date
,
Samsung Galaxy Book vs. Microsoft Surface Pro 4
,
Microsoft Surface Pro 4
,
Microsoft Surface Pro 4 news
,
trending news