Ryu Soo Young Wife: Park Ha-sun Kissing Scenes Upsetting; Wife Says Kiss With Lee Yoo-ri Great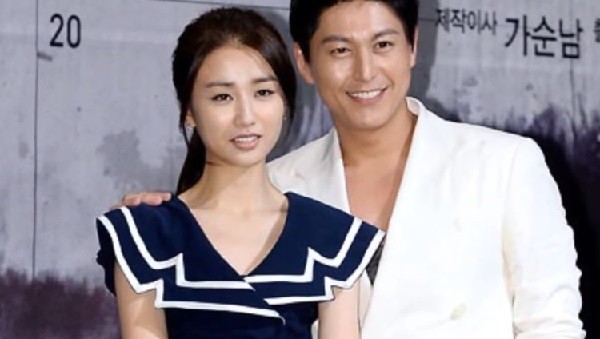 Ryu Soo Young shared on Instagram the wedding photos with Korean wife actress Park Ha Sun. The actor talked about the photos at KBS' talk show "Happy Together 3" on Thursday.
Ryu Soo Young Shared Details Behind Wedding Photos
Ryu Soo Young took to Instagram to share his wedding photos with wife and actress Park Ha Sun. Meantime, during the Thursday episode of the KBS talk show "Happy Together 3," the 37-year old Korean actor revealed that he only borrowed the 10-year old tuxedo he wore, including Park Ha Sun's dress. Some of the wedding photos shared by Ryu Soo Young that was posted on his Instagram account were not shown on the show.
Based on the released wedding photos, Ryu Soo Young's wife Park Ha Sun is seen smiling while holding a pink rose bouquet. Aside from the fact that there was just one photo that shows the couple together, the fans also noticed that the actor did not pose properly for the photo before the timer ends.
Ryu Soo Young and wife Park Ha Sun, meanwhile, met while filming the MBC drama "Two Weeks" back in 2013, and confirmed in March 2015 that they are already dating. The couple got married in a private ceremony at Mayfield Hotel in Seoul on Jan. 22, KPop Herald reported.
Ryu Soo Young Reveals How He And Park Ha Sun Deal With Intimate Scenes
Ryu Soo Young shared his thoughts about his wife's kissing scene during the April 14 broadcast of tvN drama "Drink Alone." According to the actor, he immediately got upset about the scene and even felt terrible after watching the scene where Park Ha Sun was seen sitting on her co-actor's shoulders.
Meantime, Ryu Soo Young also revealed how Park Ha Sun reacted to his kissing scenes, saying that his wife thinks that he did a good job. The actor had a kissing scene with Lee Yoo-ri, All KPop reported. Check out Su Young & Park Ha Sun Private Wedding Ceremony here:
© 2023 Korea Portal, All rights reserved. Do not reproduce without permission.