Robert Pattinson, FKA Twigs Split: Kristen Stewart's 'Frenemy' Cancelled Wedding With 'Twilight' Actor? 'Pendulum' Singer Still Jealous Of 'Café Society' Actress? [RUMORS]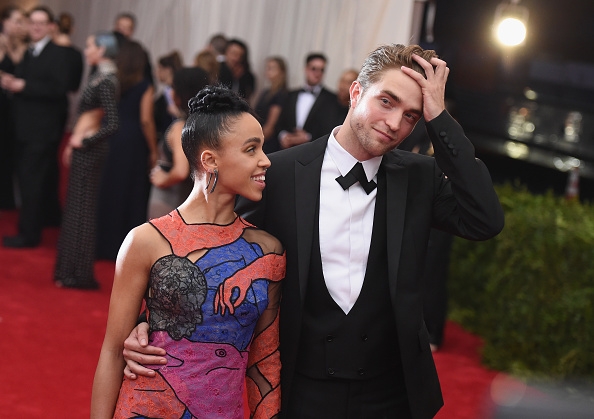 Details about the upcoming wedding of Robert Pattinson and FKA Twigs have remained scarce up to this writing, giving fans the idea that it is not happening anytime soon. Now, new reports are claiming that the "Pendulum" singer has called off her engagement with Kristen Stewart's ex-boyfriend after the "Twilight" actress expressed interest to reunite with his former ladylove.
Speaking to some media publications during a promotion event for "The Lost City of Z" film, Robert Pattinson has expressed his interest in doing another film with Kristen Stewart. Some members of the press have asked the fiancé FKA Twigs on his thoughts about doing another "Twilight" movie should there be a chance.
"I mean, I'm always kind of curious. Anything where there's a mass audience - or seemingly an audience for it - I always like the idea of subverting people's expectations," Robert Pattinson stated, as per Cinema Blend, hinting that there is still a possibility that he would work together again with Kristen Stewart. "So there could be some radical way of doing it, which could be quite fun. It's always difficult when there's no source material. But, yeah, I'm always curious," the fiancé of FKA Twigs added on.
While the Robert Pattinson and Kristen Stewart possible reunion has pleased fans, it was reported that FKA Twigs was not happy about it. There were even claims saying that the "Video Girl" hitmaker got into a huge fight with the "Twilight" actor after she learned about the statements of her fiancé.
There were even claims saying that FKA Twigs has warned to call off her upcoming wedding if Robert Pattinson would not stay away from Kristen Stewart. Rumors have it that the "Papi Pacify" songstress still feels insecure with the "Twilight" actress, Poor Primadonna previously shared.
However, Korea Portal has previously reported there is no bad blood between Kristen Stewart, Robert Pattinson and FKA Twigs. As a matter of fact, the "Twilight" actress kissed the couple on the red carpet of the 2016 MET GALA.
Both Robert Pattinson and FKA Twigs are yet to comment on these split reports; thus, followers of Kristen Stewart's ex-boyfriend and the "Water Me" singer should take everything with a grain of salt until it has been proven true and correct. Stay tuned to Korea Portal for the latest news and updates about Robert Pattinson and FKA Twigs!
© 2018 Korea Portal, All rights reserved. Do not reproduce without permission.