Girl's Day Spilled 'Idol Star Athletic Championship' Darkest SECRET!
by
Rose
/ Apr 18, 2017 05:54 AM EDT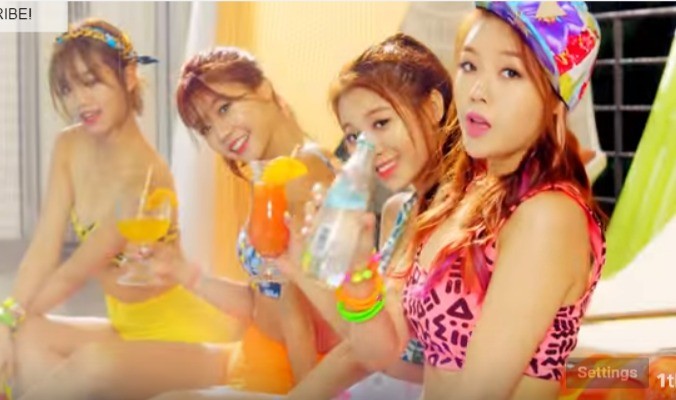 For all fans, the "Idol Star Athletics Championships" is their most-anticipated event ever to see the collections of South Korean groups in one location. It seems that they aren't the only people excited for it to happen too. On the recent "Life Bar" interview of Girl's Day, they said that it is also the most exciting day for many idols to meet and date.
According to Allkpop, When MC Tak Jae Hoon sat with Girl's Day members---Hyeri, Yura, Sojin and Minah in "Life Bar", they were asked if they have secretly dated before. They group revealed now the "Idol Star Athletics Championships" darkest secret here.
On the interview, Girl's Day admitted that they had, in fact, experienced secret dates too. They explained that the common place to do it now is on "Idol Star Athletics Championships." This the event where love is in the air for all idols. Here, they can freely meet and interact with each other.
Further, Hyeri noted that "Idol Star Athletics Championships" is also famous for love letters exchanges. Idols would just pass one another pieces of papers without anyone knowing the content of it. Notably, the fans will not surely think anything of the different group's closeness. They will just think that they are cheering one another.
Yura continued that she mostly see other idols flirting with their eyes. This is elaborated by Hyeri and Sojin by saying that they are just "scanning and searching" for prospects. They think that "Idol Star Athletics Championships" is also the "IT" time as well for idols' meeting someone new.
In this year's "Idol Star Athletics Championships," Soompi reported that there are 200 idols who participated in different events. That's a really large number to take note of Girl's Day huge secret unveiling.
Some of the male groups who came are BTS, EXO, B1A4 and MONSTAX. While the "2017 Idol Star Athletics Championships" was also filled with Girl's Day, Apink, Red Velvet and Cosmic Girls.
© 2023 Korea Portal, All rights reserved. Do not reproduce without permission.