'Avengers: Infinity War' Might Cast 'Thor: Ragnarok' Dark Lady Villain Hela As The MCU's Take On The Lady Death Character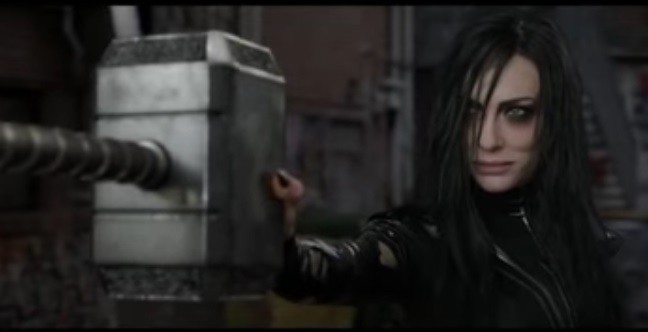 "Avengers: Infinity War" is coming next year and the new trailer video of the Marvel's "Thor: Ragnarok" has been released to the public. A lot of surprising scenes were shown in the new teaser, like the anticipated Hulk vs Thor battle and the destroying of Hela to Thor's signature hammer weapon Mjolnir.
A speculation from the Comic Book report suggests that this dark lady villain Hela, who played by the actress Cate Blanchett, will have a big role in the upcoming Marvel's "Avengers: Infinity War" movie. According to them, along with Hela's pale appearance and dark outfit, it led MCU fans and movie fanatics to believe that Blanchett character may be the MCU's take on the character Lady Death.
Lady Death is the lover of Thanos in the Marvel comics, whom the "Avengers: Infinity War" Main Villain. In the comic's story, Lady Death refuses to love Thanos despite his unrelenting desire for her. Trying to impress Lady Death, Thanos vows to serve her by killing relentlessly. In the MCU, Thanos had already seen evidence for his murderous rampage.
Although it is just a theory, that Hela will be the Thanos lover, this kind of twist is still not impossible to happen in the Marvel Cinematic Universe, in the "Avenges: Infinity War." MCU movies are indeed based on the comic's story, so theories on the Avengers superheroes' fate are very easy to predict.
Speaking of Thanos, in another Marvel movie, but not under the MCU's franchise, the "Avengers: Infinity War" main villain's actor, Josh Brolin, is confirmed to be cast in the "Deadpool 2" movie of the 20th Century Fox. Brolin will play the role of Cable, Wade Wilson's comrade, and action partner.
The "Avengers: Infinity War" will be released in May 2018 and the second movie follows in the subsequent year. Infinity War has a lot of casts and it is surely going to be epic as the MCU's biggest movie ever.
© 2020 Korea Portal, All rights reserved. Do not reproduce without permission.