South Korean Air Pollution Mostly Contributed By Internal Pollutants; China's Fine Dust Particles Adds Up To The Woes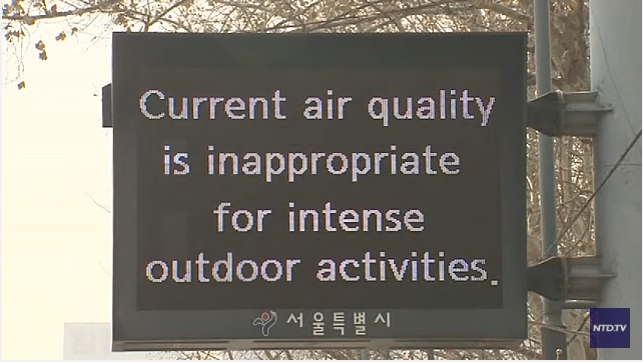 The hazy atmosphere due to the worsening air condition at the South Korean capital and other regions have been a growing concern among its citizens as the country was included in the roster of the world's most polluted countries. Analysts even made quite a revelation that a majority of the air gunk that hovers above the country could be home grown.
Most South Koreans firmly believe for quite some time now that the thick blanket of smog that has enveloped some parts of the country came from adjacent countries like China. However, a huge part of the gaseous trash - that costs the government a whopping $9 billion annually, were emitted within South Korea.
As of late, South Korean authorities have rolled out 85 ultrafine dust advisories during the first quarter of 2017 alone. The said statistic was upped by over 100 percent from the 41 air pollution warnings in 2016, according to Financial Times.
In a statement obtained by the publication, University of Seoul's Kim Shin-do stated that the South Korean government is "sitting idly" while passing most of the blame to China. He added that it is only when the country handles its own air pollution woes that they can fully perceive the actual extent of air pollutants that are coming in from neighboring nations.
Kim further explained that China only contributes to 20 percent of the air pollution that enters the South Korean airspace. Nonetheless, eco watchdog Greenpeace said otherwise claiming that it is 30 percent.
South Korea's air pollutants are mainly contributed by vehicle emissions and the country's massive number of coal-fired plants. Currently, a total of 53 power plants operates within the country with 10 of them about to be shut down by 2025. However, it will be replaced by 20 more in the next five years.
Meanwhile, a jointly written report by U.S. and Chinese researchers that were published in an issue of the Nature journal as cited by KBS World Radio, it stated that an estimated 30,000 South Koreans and Japanese will die prematurely due to dust particles that traveled all the way from China. It added that in March alone, such foreign particles have shrouded Seoul and nearby areas at a rate of two out of three days. Watch a report about the worsening air pollution in South Korea:
© 2018 Korea Portal, All rights reserved. Do not reproduce without permission.