Sandara Park, G-Dragon Dating: Former 2NE1 Member Returned To South Korea For BIGBANG Singer? 'Fantastic Baby' Hitmaker Jealous Of Ji Soo? [RUMORS]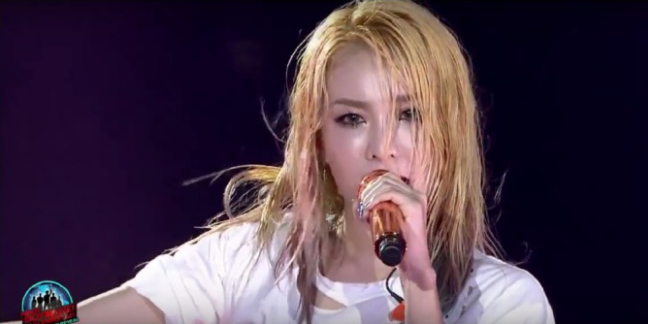 Sandara Park and G-Dragon have been insistently linked to each other since their controversial photo together has surfaced online. Now, new reports are claiming that the BIGBANG member is the major reason why the former 2NE1 singer has decided to return at South Korea.
Koreaboo first shared the photo of Sandara Park and G-Dragon kissing after the BIGBANG singer's concert. According to the news outlet, there have been clips spreading that featured the former 2NE1 singer and the "BANG BANG BANG" hitmaker looking so sweet and cozy together.
Reports have it that Sandara Park was being protected by G-Dragon from the crowd after the BIGBANG concert. Avid followers of the two Korean superstars have also noticed that the "Fantastic Baby" hitmaker has kissed the former 2NE1 member on the head.
Because of this, Sandara Park and G-Dragon dating rumors have started to make waves online. There were even claims saying that the BIGBANG member could possibly be the main reason why the ex-2NE1 member decided to return in South Korea despite the disbandment of her group.
Most fans know that Sandara Park went home to the Philippines after it was announced that 2NE1 members have decided to part ways. The rumored girlfriend of G-Dragon even had a lot of appearances and projects there such as the Pinoy Boyband Superstar, wherein she sit as one of the judges.
Meanwhile, there have been speculations that G-Dragon is jealous of Sandara Park and Ji Soo's sweet moments in "Get It Beauty 2017." Soompi has shared that the "Moon Lovers: Scarlet Heart Ryeo" actor cannot help but smile during his appearance on the show.
"She's very lovely. Today is such a happy day for me," Ji Soo stated as Sandara Park shared her hand cream skills to the actor. Because of this, fans cannot help but wonder if G-Dragon got extremely jealous of the two superstars' sweet scenes together.
Both Sandara Park and G-Dragon have yet to comment on these dating reports. Stay tuned to Korea Portal for the latest news and updates about the supposed Sandara Park and G-Dragon relationship.
© 2023 Korea Portal, All rights reserved. Do not reproduce without permission.