Jennifer Aniston, Justin Theroux Divorce: 'FRIENDS' Actress, Brad Pitt Getting Back Together, Doing Reunion Movie? 'Zoolander' Actor Threatened By Angelina Jolie's Ex?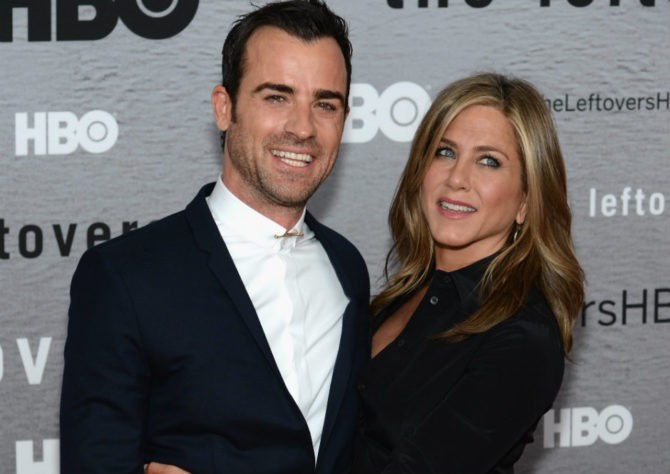 Jennifer Aniston and Justin Theroux divorce rumors have been making it to the headlines again after the "Horrible Bosses" actress got linked with former husband, Brad Pitt, again. Now, new reports are claiming that the estranged husband of Angelina Jolie could possibly be in another trouble again after reportedly contacting his former lady love again.
Celeb Dirty Laundry reported Jennifer Aniston and Justin Theroux are currently rumored to be on a brink of divorce. According to the news outlet, the "We're the Millers" actress has been reportedly making calls to Brad Pitt following the latter's split with Angelina Jolie.
Speculations have it that Brad Pitt got reportedly desperate to contact Jennifer Aniston after his split from Angelina Jolie. CDL added that the "Troy" actor badly wants to be comforted by his former apple of the eye, which supposedly caused a chaos between the "Just Go With It" actress and Justin Theroux.
"He first called her to wish her a happy birthday on February 11th and since then they've been texting each other non-stop," Celeb Dirty Laundry has said about how Brad Pitt and Jennifer Aniston have started contacting again several years since divorce. "Even though she's happily married to Justin Theroux, she's apparently spending a lot of time talking to Brad, regardless of whether her husband likes it or not."
Meanwhile, HNGN has previously reported that Jennifer Aniston has been distancing herself from Justin Theroux because of Brad Pitt. According to the news outlet, the Hollywood couple has been spending more time away from each other than together.
It has been added that Jennifer Aniston and Justin Theroux's marriage has become chaotic since Brad Pitt started phoning the "FRIENDS" actress. There were even claims saying that Angelina Jolie's former partner and his ex-wife are going to be reunited in a movie soon.
Though these reports could possibly be true, it should be noted that neither Jennifer Aniston nor Justin Theroux has confirmed anything as of yet; so, fans should take everything with a grain of salt until it has been proven true and correct. Stay tuned to Korea Portal for the latest news and updates about the supposed Jennifer Aniston and Justin Theroux divorce!
© 2019 Korea Portal, All rights reserved. Do not reproduce without permission.