BTS Hosting Their Own Interview: Jungkook's 'Train Popping'; 'Spring Day' Performance & More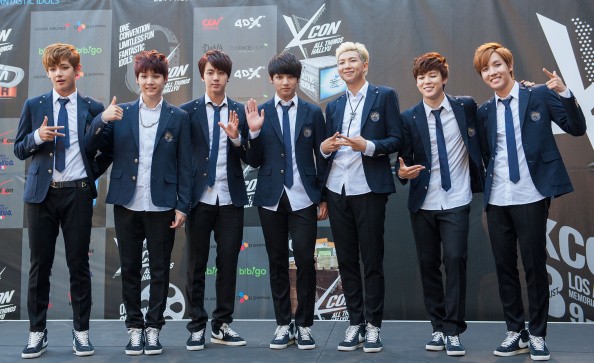 The "Show Champion's" episode for March 8 gave way for BTS to perform their hit song "Spring Day." However, that's not just it! The seven-member group also allowed fans to learn more from them as they host their own interview.

BTS Jungkook is the MC of the day's extraordinary event and this the crew's way to honor the recent graduation of the 19-year-old member. MC Jungkook held a cue card and while he reads, BTS members find their position for their "Spring Day" performance. The MC's questions are all about how the K-Pop idols were able to create record-breaking hits that rocked iTunes, Billboard, and even YouTube with their latest album, "Wings." He also asked the group's idea on how they made BTS very popular.

"I think we've been able to achieve such great results because ARMY loves us so much!" J-Hope confidently replied. After which, the 23-year-old member did a lyrical, modern choreography for their song "Spring Day" and BTS definitely had a good time seeing their fellow member, Rap Monster, flawlessly executing one of Jimin's dance.
"That had a very different feeling!" J-Hope respond. Meanwhile, Jin jokingly says: "I'm not familiar with that dance!"
According to Soompi, MC of the day Jungkook talked about how other groups have been looking up to them, treating them as role models. However, Jimin admitted that although BTS are aiming to give their best all the time, they still find it awkward whenever some people or idols refer to them as senior artists or even role models.

Meanwhile, Jungkook asked them to share a funny story while they are filming "Spring Day." Rap Monster answered quickly that it is the MC's funny way of imitating the train, and as they call it, "train popping."

He mentioned about Jungkook trying to make it look like he's sitting in a train by shaking his chair. It sounds pretty simple but it brought laughter to the set.
Want to know who inspired BTS with their song "Spring Day?" Read here.
© 2021 Korea Portal, All rights reserved. Do not reproduce without permission.