South Korean Cop Killed While Trying To Save Autistic Teenager On Police Day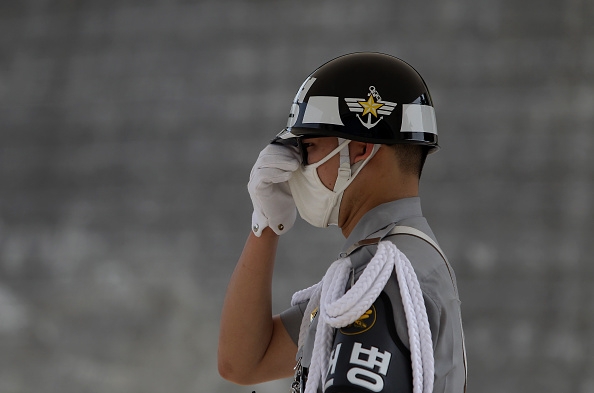 Lieutenant Lee Ki-tae started his career as a police officer in 1982 at a station in Yeongdeok County, North Gyeongsang and was awarded 15 certificates of merit throughout his 33-year career, according to the Korean news outlet Joongang Daily.
On the 70th anniversary of Police Day this week, the 57-year-old reportedly lost his life while trying to save an autistic teenager from being run over by a freight train.
Lee, a "very generous man," according to long-time colleague Kim Chil-sung, was reportedly working on a case after receiving a call from a local motel, complaining about someone "causing a disturbance in one of our guest rooms." The guest was reportedly identified as a 16-year-old boy with the surname Kim.
Kim's autism was reportedly considered a second-rank disability on a three-rank scale. Autism spectrum disorders are generally characterized by difficulty interacting socially, including challenges communicating with others, according to the website austismspeaks.org.
When Lee and his colleague, Kim Tae-hoon, tried to send Kim home via train to Cheongnyangni Station in eastern Seoul, the boy reportedly got upset. As the three approached a train station, Kim reportedly asked to be let out to urinate, then ran onto the railroad tracks.
"I don't want to go home. I'd rather die," Kim was reported as saying.
Both officers reportedly attempted to get the teenager off the tracks, but the train hit all three people.
Lee and the boy were reportedly killed on the spot, while Officer Tae-hoon suffered a fractured right leg and an amputated big toe.
Lee was known for his kindness during his years of service.
"Lee once received a call from a woman saying that her husband was hitting her, which turned out to be a false charge made by a woman with a mental disorder," explained the officer's colleague.
"Unlike most officers, who would scold the caller, Lee consulted with the woman and her husband and took her to a hospital to receive therapy."
Lee is survived by his wife and two sons.
© 2023 Korea Portal, All rights reserved. Do not reproduce without permission.