2PM Concert Disaster: Events Before The Concert Revealed
by
Mia L.
/ Feb 28, 2017 05:39 AM EST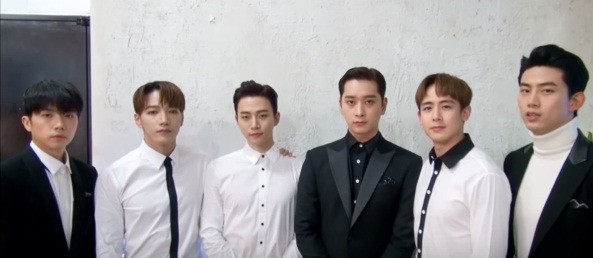 The disastrous 2PM concert where Jun K. fell off the moving vehicle was quite unexpected. Before the concert, 2PM member Ok Taecyeon even went on a live broadcast on V live where he seems to be in a good mood. He complimented the weather and even said: "it's nice to throw a concert on a day like this."
Fans were keeping track of Taecyeon's location and when they rushed in, he went back inside to show viewers what it is like backstage. He even gave fans a peek of their dressing room "Quick Booth." Taecyeon ended the broadcast showing how excited he is to meet fans when he goes on stage later that night.
Unfortunately, the third day of their concert series did not go as planned. It has been more than a year after 2PM's last concert and since Taecyeon and Jun K are planning to enter the military this year, it would be the last time the group would be complete.
Later that night at the Seoul Olympic Park SK Olympic Handball Gymnasium, Jun K fell off a moving stage which was almost 10 feet high. The concert was immediately stopped as the artist was immediately rushed to the hospital. 2PM's agency JYP Entertainment released an official statement on Jun K's health condition. According to the statement, the artist fractured his right elbow and the fourth finger on the right hand during the fall. The agency also issued apologies for not making sure that their artist is safe during the performance.
In another statement, the agency apologized again for putting the artist at risk during a performance. They also reassured fans that the surgery on Jun K's elbow went well although they are waiting for a more detailed examination as the injured 2PM member is experiencing knee and chest pains too. Meanwhile, JYP Entertainment announced they were going to refund tickets for 2PM's 6 night concert and provide updates on Jun K's condition.
© 2018 Korea Portal, All rights reserved. Do not reproduce without permission.