Zac Efron, Vanessa Hudgens Dating: 'Baywatch' Actor Confirmed He Still Loves Austin Butler's Girlfriend? Sami Miro's Ex, 'Spring Breakers' Actress Reunion Possible?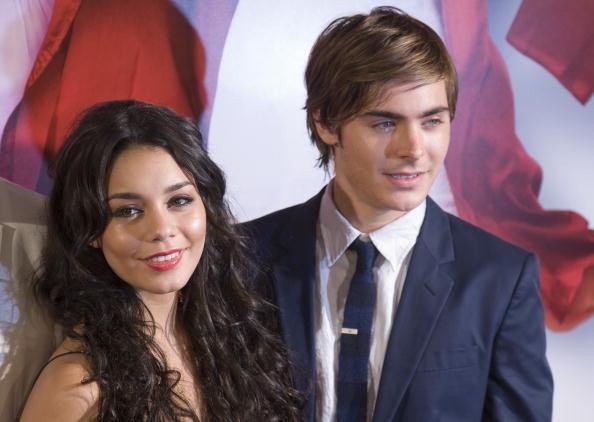 Zac Efron and Vanessa Hudgens dating reports have been making rounds again lately as they have been speculated to reunite in the upcoming "High School Musical 4" movie. Now, new reports are claiming that the "Baywatch" actor is still not over Austin Butler's boyfriend.
Rumor website GamenGuide has claimed that Zac Efron is totally not over Vanessa Hudgens yet. According to the news outlet, the "Neighbors" actor is reportedly pursuing the girlfriend of Austin Butler again after his split from Sami Miro.
There have been claims saying that Zac Efron has been calling Vanessa Hudgens following his breakup with Sami Miro. GNG added that the "High School Musical" lead stars have never stopped loving each other that they are now excited to get back together via the imminent "High School Musical 4" movie.
Adding fuel to the fire is Zac Efron's most talked about Instagram post, which featured a throwback photo of him alongside Vanessa Hudgens, Ashley Tisdale and Corbin Bleu. What made the said image controversial is the caption written by the "Mike and Dave Need Wedding Dates" actor.
"So grateful I came across this picture... With the o.g. crew during one of the most cherished and exciting times of my life," Zac Efron wrote in the caption for an Instagram post that featured Vanessa Hudgens. "Love you guys forever. #fbf."
Because of this, fans cannot help but believe that Zac Efron and Vanessa Hudgens are likely to reunite soon in the forthcoming "High School Musical 4" movie. Korea Portal even shared that some fans think the former lovebirds had cheated on Sami Miro and Austin Butler.
There have been reports saying that Zac Efron and Vanessa Hudgens have been seeing each other secretly even after their split. While these rumors could be true, it should be noted that neither of the former "High Scholl Musical" lead stars has confirmed any of this.
Until now, both Zac Efron and Vanessa Hudgens have remained tightlipped about their rumored reunion in "High School Musical 4" movie. Stay tuned to Korea Portal for the latest news and updates about the alleged Zac Efron and Vanessa Hudgens relationship.
© 2019 Korea Portal, All rights reserved. Do not reproduce without permission.