Family Reunions Held At Mt. Kumgang Hasn't Always Been Tradition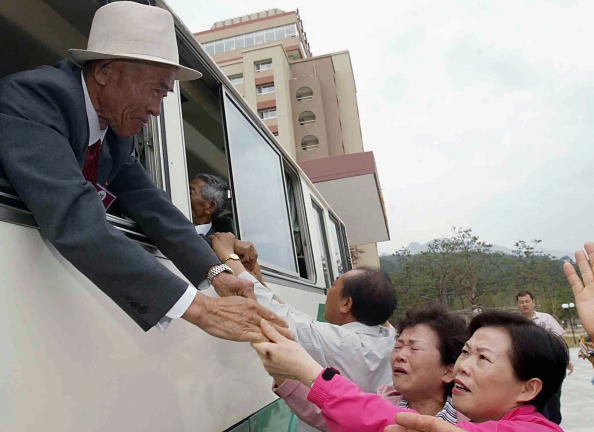 Reunions for families separated by the Korean War were held at Mt. Kumgang in North Korea starting Tuesday, according to the Korean news outlet Chosun.
Traveling to Mt. Kumgang is difficult for the elderly people waiting to meet their family members, as the resort they're staying at is far away from the location, but there's reportedly a reason North Korea continues to insist the reunions be held there.
A Unification Ministry official reportedly recalled that past reunions were considered disruptive to North Korean life because of the exposure to the differences in economic development between the two countries. After three rounds of family reunions, the North reportedly abruptly requested that the reunions be moved to Mt. Kumgang.
Since the fourth family reunion in April 2012, all 17 family reunions have reportedly been held at Mt. Kumgang, a practice that has received complaints from participants.
"It's very difficult for elderly people in their 80s and 90s to stay overnight in Sokcho, then travel to Mt. Kumgang by bus, and stay two nights in an inconvenient hotel there," a government official said.
"There's a reason many elderly people have given up meeting their relatives for health reasons, even if they haven't seen them for 60 or more years."
Less than 200 families are taking part in the reunions this year — 96 families from the North and 90 from the South, according to CNN. More than 130,000 South Koreans have applied since 1988, but about 64,000 of the applicants have reportedly passed away.
For those who are able to attend the reunions, the event is an emotional one.
"Just by looking in that direction, I can remember their faces," said 85-year-old Ahn Yoon-joon, who left his family in North Korea at the age of 18.
"I would ask my younger sisters to forgive me. I left them with all the responsibilities. My heart is breaking. I abandoned them."
© 2023 Korea Portal, All rights reserved. Do not reproduce without permission.