Song Joong Ki Answered Park Bo Gum's Love Confession: 'Sorry, But I Got Kwang Soo Already'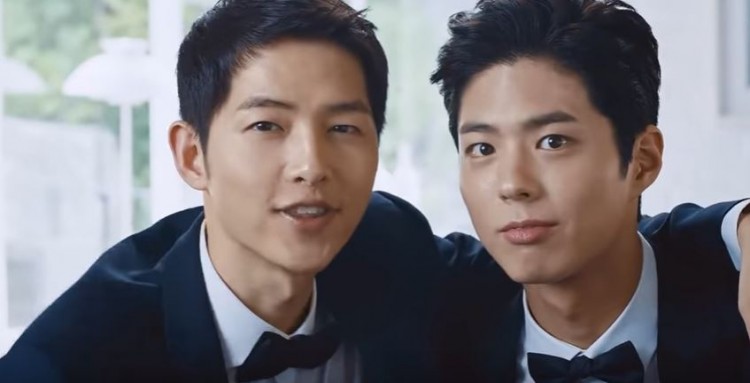 Song Joong Ki's close friendship with Park Bo Gum is no secret, in fact, the two has openly shared their closeness to the public. However, their bromance has been linked to another actor named Lee Kwang Soo but it wasn't long until the "Descendants of the Sun" actor had revealed his honest emotions.

Recently, the "Love in the Moonlight" actor attended his fan meeting in Thailand, totaling to over 4,000 Thai fans. His Feb. 11th meeting had become more exciting when he introduced his surprise guest and it's no other than his closest friend, Song Joong Ki.

The story of their brotherly-close relationship had surfaced many times online as the two had always proudly exposed their love and support towards each other. Koreaboo reported that ever since Park Bo Gum appeared on the previous fan meetings of Song Joong Ki, he has happily returned the favor by being with Park Bo Gum on his tour around Asia.

One of Park Bo Gum's fan meeting had given way for fans to know what he feels about Song Joong Ki whenever he looks at him. After few seconds of thinking, he finally said many things about Song Joong Ki such as him having a beautiful face, sweet voice, and a "really good figure".
Park Bo Gum continued complimenting Song Joong Ki and he indeed made him felt overwhelmed and this made the "A Werewolf Boy" actor get up from his seat and asked if it's becoming a bit romantic. Park Bo Gum went on praising Song Joong Ki for his kindness and masculine physique but then he started confessing something that shocked everyone in the crowd.

"But if I was a girl, I would want to date Hyung. I wanted Song Joong Ki to be with me. It's true, this is coming from my heart," Park Bo Gum admitted. "I'm really sorry, but I got Kwang Soo already," Song Joong Ki replied. Nevertheless, the two never failed to show their care and fondness towards each other.

What do you think of Park Bo Gum and Song Joong Ki's close friendship? Let us know your thoughts in the comment box below.
© 2023 Korea Portal, All rights reserved. Do not reproduce without permission.