Song Joong-ki, Song Hye-Kyo Romance: Age Gap Not Problem At All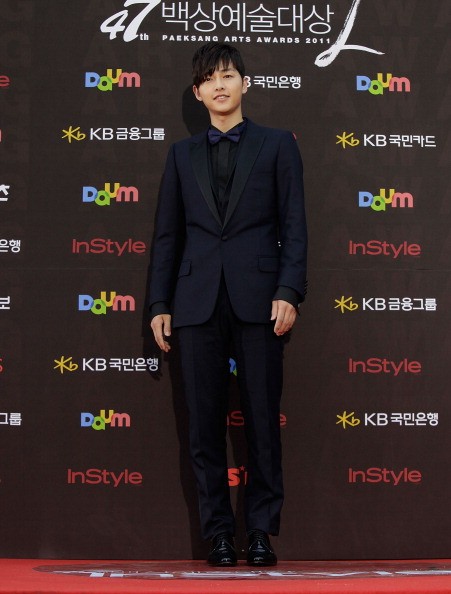 Song Joong-ki feels the pressure to admit his romantic relationship with "Descendants of the Sun" co-star Song Hye Kyo. Incidentally, the show aired its finale in mid-April 2016 over at KBS 2TV in South Korea after 16 episodes.
Joong-ki Fans Believe He Is Oppa In Laneige Post
"Battleship Island" Joong-ki insists that he is only friends with Hye Kyo, yet reports suggest that the Korean star is pressured to admit not only his relationship but his plans to marry as well. Speculations arise after both stars posted separately on Instagram photos with young children and when Rain got married to Kim Tae Hee last January.
Moreover, Joong-ki fans were also reported to pick the news of his likely marriage to the 35-year old actress after the cosmetic brand Laneige made an erroneous post on Feb. 2. According to reports, the brand posted that Hye Kyo and oppa have confirmed their wedding date.
However, given that the post did not mention the groom's name, some fans were made to wonder if the post was referring to Joong-ki. Nevertheless, Laneige made the corrections immediately, FabNewz Media reported.
Joong-ki Inspires "Noona" Romance
Joong-ki and "The Queens" star Hye-Kyo have far more reasons to get married, and age factor should not be an issue since both are believed to inspire a "noona" relationship. According to reports, "noona", which is a romance between an older woman and a younger man, is catching in on Asia, especially in China.
It also seems that Joong-ki is an empowered man who does not mind dating an older woman. In fact, reports also suggest that in terms of physical appearance, the actor is very lucky because Hye-Kyo looks like an 18-year old, Inquisitr reported. Watch Joong Ki together with Hye Kyo at KBS Drama Awards 2016 here:
© 2018 Korea Portal, All rights reserved. Do not reproduce without permission.