Justin Bieber Weird Japanese Commercial Leaked? Collaboration with Piko Taro Revealed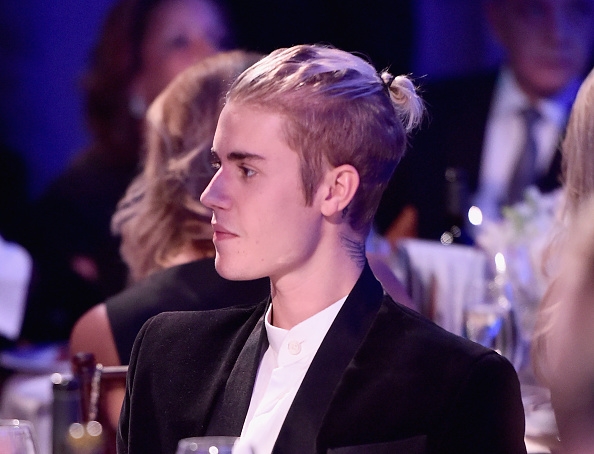 Justin Bieber has been making news since his discreet comeback in social media. The Canadian singer leaked some information about his upcoming weird advertisement with the Japanese eccentric artist, Piko Taro.
Unless one is living under a rock or has not been active in social media, Piko Taro became famous for his witty song, Pen Pineapple Pen. Apparently, JB will be working with him on the next, highly-expected project.
According to Mail Online, Justin Bieber and Piko Taro will be appearing in the SoftBank commercial. Notably, it is one of Japan's largest telecommunications company which was established in 1981.
Details about his appearance with the bizarre Japanese includes behind-the-scenes photographs. The Biebs is wearing a blue outfit while Piko Taro sports his famous PPAP leather-fashioned style.
They are also joined by some students and it appears as well that they have been doing the shoot in a school. The advertisement is yet to be out but the snapshots were unveiled to make the fans excited.
Recently, Justin Bieber quietly returns on Instagram by posting another advertisement for T-Mobile. Since then, he's been posting some of his personal photos as well, like occasional selfies and posing with some of his friends.
The 22-year old singer shocked his fans and followers after deactivating his account. According to previous reports, he had a heated argument with Selena Gomez after firing back on some followers.
The artist slammed some of his Instagram followers who made some derogatory comments about his then-rumored girlfriend, Sofia Richie. Justin Bieber had been on social media hiatus for around 6 months.
Now, he might be ready to share his moments again with the fans but would also use his account for promotions as well. Stay tuned for more updates about his upcoming advertisement and his musical career here on Korea Portal.
© 2023 Korea Portal, All rights reserved. Do not reproduce without permission.