Lee Dong Wook Reveals He Wanted Sweet Romance With Yoo In Na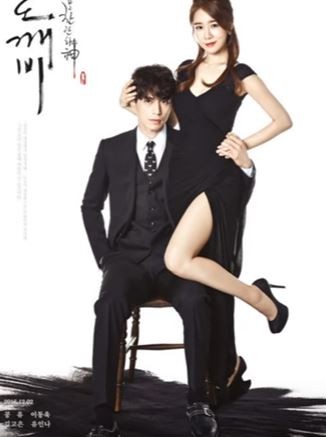 Actor Lee Dong Wook revealed he wanted to share a sweet romantic moment with his on-screen "Goblin" partner Yoo In Na.
The handsome actor who played the Grim Reaper, as well as Goryeo king Wang Yeo in the smash, hit series "Goblin" regretted not having a proper date with the character Sunny or Kim Sun played by Yoo In Na.
"I didn't get to date Sunny properly. I was thinking of how it would turn out if I could have shown a bit more of a cute and lovey-dovey image," said the 35-year-old actor on the "Goblin" special episode aired Saturday.
"There wasn't much of a sweet dating process," agreed the 34-year-old actress-DJ.
Lee Dong Wook, nevertheless, felt grateful for their supportive fans who dubbed them as Peach Couple.
"Even so, the viewers gave us a lot of love and support, so I'm thankful for that. I think I did well thanks to [Yoo In Na.]," he said.
The trending Peach Couple appeared in at least two versions of a mobile app commercial just as "Goblin" ended.
The pair also watched the recording of fellow "Goblin" actor Jo Woo Jin, who played secretary Kim Do Young and promised to dance to TWICE's "TT" if the show breaks the 20 percent ratings.
Lee Dong Wook added that the onscreen bromance among "GongDongJae" was a hit.
Gong Yoo, who played the lead role of goblin, messed around with their youngest co-star Yook Sung Jae, who played the chaebol heir Yoo Deok Hwa.
"As expected from a Super Junior member, you're so good," said Gong Yoo.
"You mean B1A4~," Lee Dong Wook said.
The director also joined in and asked, "Isn't he a member of BEAST?"
Lee Dong Wook then claimed that he could name all the members of BTOB, the boy band Yook Sung Jae is part of.
Gong Yoo edged him off when he said, "Yook Sungjae is the only idol I know."
"Didn't you film 'Big' with Suzy?" retorted Lee Dong Wook.
"The only female idol I know is Suzy, and the male idol is Yook Sungjae. That's it," Gong Yoo clarified.
© 2023 Korea Portal, All rights reserved. Do not reproduce without permission.
Tags:
lee dong wook
,
lee dong wook goblin
,
Lee Dong Wook goryeo king
,
Lee Dong Wook Grim Reaper
,
Lee Dong Wook and Yoo In Na
,
Yoo In Na
,
Peach Couple
,
Yoo In Na goblin
,
Goblin
,
gong yoo goblin
,
Goblin news
,
Goblin latest update
,
Goblin special episode
,
Goblin ratings
,
Goblin update
,
Lee Dong Wook and Yoo In Na commercial
,
GongDongJae
,
Gong Yoo
,
Yook Sung Jae
,
BtoB
,
BTOB's Sungjae
,
Jo Woo Jin
,
Jo Woo Jin goblin
,
Jo Woo Jin TWICE's TT
,
TWICE
,
TWICE TT
,
TWICE TT goblin