Samsung Resumes Calm After Avoiding Arrest Of Heir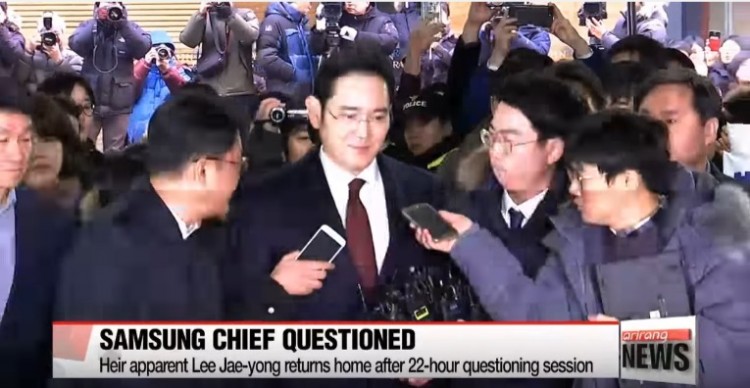 The South Korean giant Samsung was relieved after a court blocked the arrest of his heir and number one, Lee Jae-yong , accused of being part of the plot of corruption Choi Soon-il.
The possible arrest of Lee had generated concerns about a power vacuum in the largest multinational country and its effects on the national economy. These fears are dissipated for now, although the magnate remains under investigation for its alleged involvement in the case, which has led to the suspension of President Park Geun-hye .
The court ruled early in the morning that it was not necessary to arrest Lee, contrary to what the prosecution had requested, considering that there is evidence of substantial donations from Samsung to organizations associated with Choi Soon-sil, the confidant of President Park, in return for 'favors'.
Prosecutors blamed Lee for corruption, misappropriation, and perjury for varying the initial statement before Parliament, considering that Samsung's transfers were made in exchange for Park's government supporting a controversial merger of two Subsidiaries of the emporium in 2015.
Lee, 48, de facto leader of the Samsung group, rejoined his job this morning after spending the night in a Seoul detention center and waiting for the verdict of the Central District Court of the capital, whose deliberations lasted for about 15 hours.
The Director, who even presided over a meeting on the strategy of the company for the future, wanted to project an image of normality after the uproar caused by the possible imprisonment of one of the richest and most influential men in the country, as interpreted by the South Korean media.
The prosecution, meanwhile, lamented the court's decision today, saying it will continue without hesitation its investigations into the case and left open the option of issuing a new arrest warrant against the officer, according to his spokesman, Lee Kyu-chul, at a press conference.
Lee and other officials have admitted Samsung has paid 43,000 billion won (33.7 million euros / 35.8 million dollars) to companies allegedly controlled by Choi Soon-sil, but have refused to go to achieve the Government 's support Park In the merger process of 2015.
The team believes that Choi, with Park's collusion, has come together to create a corruption network that would include the President herself, members of the government, and the country's major "Chaebol" (the major South Korean business conglomerates).
© 2022 Korea Portal, All rights reserved. Do not reproduce without permission.