'Resident Evil: Final Chapter' Star Mila Jovovich Grateful To 'Running Man' Star Lee Joon Gi After Visiting South Korea; Upcoming Movie Promising?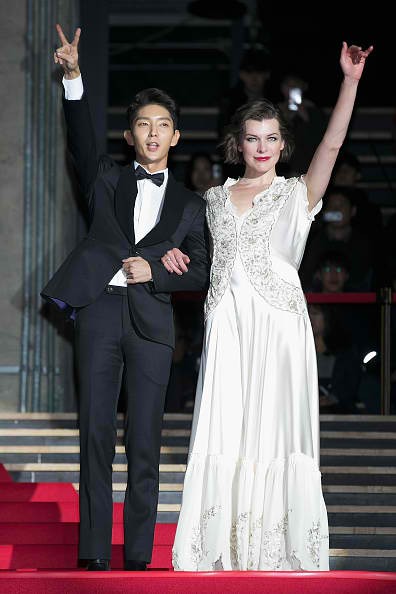 "Resident Evil" star, Milla Jovovich has visited Korea to promote her final movie, "Resident Evil: The Final Chapter". Jovovich was reportedly having a great time during her stay, with the help of her Korean co-star, Lee Joon Gi. They have been seen having dinner together with movie director and Milla's husband, Paul Anderson.
Soompi reports that Lee Joon Gi had surprised the Resident Evil star with a gift as a welcome present for visiting Korea, which took place January 12. Lee Joon Gi is reported to be part of the cast for the upcoming movie, taking the role of Commander Lee, an enemy to Alice.
The promotion included a press conference with Lee Joon Gi, and director Anderson, which was an exciting event for the fans. Daily Mail reports that Milla and Lee Joon Gi were such a good team, as they post for the red carpet.
lee joon gi and lee ji eun as wang so & hae soo pic.twitter.com/HxDQkyTaTa

— rt your kfaves (@kcelebfaves) January 5, 2017
"Resident Evil: The Final Chapter" is said to be the sixth installment, from the first movie, which was released back in 2012. The sequel, "Resident Evil: Retribution" garnered $240 million worldwide. The upcoming movie reveals Alice to take the last stand in defeating the Umbrella Corporation. Some of the stars who will take part in the movie include, Ali Larter, Shawn Roberts, Ruby Rose, Eoin Macken, William Levy, and Iain Glen.
Lee Joon Gi at the #ResidentEvilTheFinalChapter Press Con pic.twitter.com/Z7B8DOI5Vn — lee joon gi pics (@joongiarchives) January 13, 2017
Fans of both Lee Joon Gi and Millaa Jovovich will certainly enjoy the thrill of "Resident Evil: The Final Chapter". The movie was already released in Japan last December 23, and is expected to be released in the US on January 27. Stay tuned for more KoreaPortal update.
© 2023 Korea Portal, All rights reserved. Do not reproduce without permission.
Tags:
Resident Evil: Final Chapter
,
Resident Evil: Final Chapter news
,
Resident Evil: Final Chapter update
,
Resident Evil: Final Chapter star
,
Resident Evil: Final Chapter cast
,
Resident Evil: Final Chapter release date
,
Resident Evil: Final Chapter co star
,
Milla Jovovich
,
Lee Joon Gi
,
Paul Anderson
,
Ali Larter
,
Shawn Roberts
,
Ruby Rose
,
Eoin Macken