Dara Park As Harley Quinn Made 'Lipstick Princes' Nervous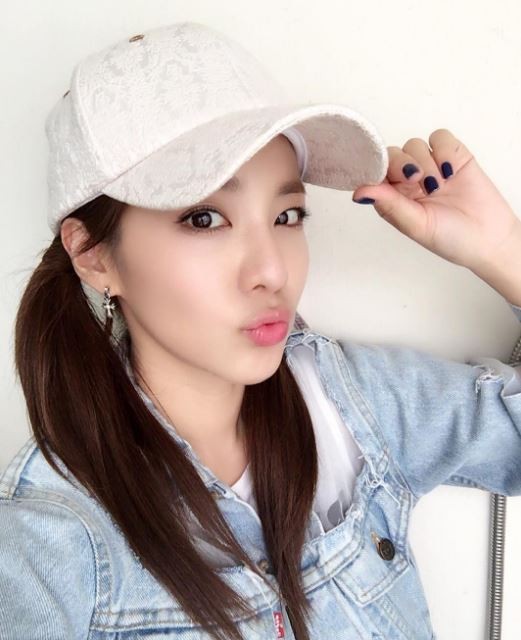 Singer-actress Dara Park appeared as the "princess" for the Thursday episode of OnStyle's "Lipstick Prince" and chose to be transformed as super villain Harley Quinn.
The YG artist's guest appearance on "Lipstick Prince made the co-hosts, also called as "princes" of the beauty show, both excited and nervous.
The 32-year-old former 2NE1 member said she wanted to look like the fictional DC super villain Harley Quinn.
BTOB's Eunkwang asked her, "Are you really ready for this?"
Tony An, who started with her base makeup, revealed how much he liked Dara ever since.
"I found her adorable, so I wanted her to join our agency, but I heard she was going to YG so I let go of that dream," said the former H.O.T. member.
Eunkwang followed with the eyebrows, NCT's Doyoung with the eyeliner and Block B's P.O. with her eyeshadow.
The 23-year-old hip hop rapper claimed to be a big fan of Dara as he chose her as his ideal woman as well as his phone wallpaper when he was still a trainee.
His heart also previously fluttered when Girls Generation's Seohyun shook hands with him as she appeared as a guest.
"I held Girls' Generation's hand!" cried out P.O. to his fellow co-hosts.
Block B's U-Kwon continued with Dara's eyelashes, SF9's Rowoon painted a heart tattoo on Dara's left cheek, MONSTA X'S Shownu with Dara's cheekbones and Kim Heechul with the lipstick.
P.O. got his wish after Dara chose him as the "lipstick prince" and gave him a backhug as well as a badge. She said she picked him because he looked cute when he acted shy while applying her makeup.
Dara later posted on Instagram a photo of Harley Quinn Dara and his eight "lipstick princes."
She wrote, "Fun times with the princes #lipstickprince I like Harley Quinn Dara~!!!"
© 2023 Korea Portal, All rights reserved. Do not reproduce without permission.
Tags:
Dara Park
,
Sandara Park
,
Dara
,
Harley Quinn
,
Harley Quinn Dara
,
Dara Lipstick Prince
,
Lipstick Prince
,
BTOB's Eunkwang
,
BtoB
,
Eunkwang
,
Tony An
,
NCT's Doyoung
,
NCT
,
Doyoung
,
Block B's P.O.
,
Block B
,
P.O.
,
Girl's Generation's Seohyun
,
Seohyun
,
Girls' Generation
,
Block B's U-Kwon
,
U-Kwon
,
SF9's Rowoon
,
SF9
,
Rowoon
,
MONSTA X'S Shownu
,
MONSTA X
,
Shownu
,
Kim Heechul
,
Heechul
,
Super Junior's Heechul