Jo In Sung Closer To Lee Kwang Soo Than Song Joong Ki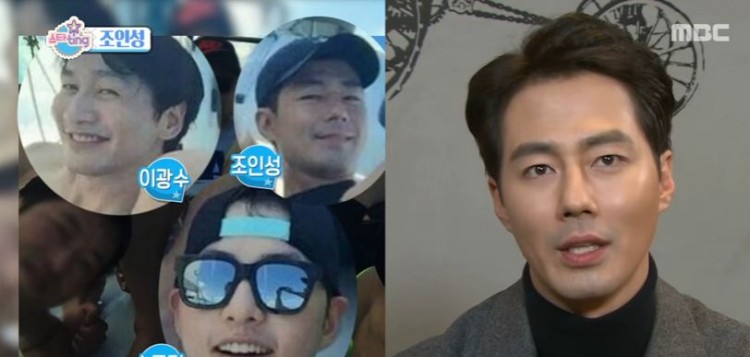 Hallyu star Jo In Sung revealed he's closer to "Running Man" cast member Lee Kwang Soo than a previous favorite, fellow actor Song Joong Ki.
The 36-year-old actor in the upcoming film "The King" recently revealed in an interview that he's now closest with the 31-year-old actor-comedian among his famous group of celebrity friends.
Aside from the three, the group includes Cha Tae Hyun, Bae Sung Woo, Kim Ki Bang, Im Joo Hwan and E.X.O.'s D.O.
"D.O. is Kim Woo Bin's love and I tend to care a lot for and am closest with Lee Kwang Soo," allkpop quoted Jo In Sung as saying.
He even used his closeness to Lee Kwang Soo as the reason why he won't join the SBS variety show "Running Man."
He added that he cares for the younger actor more than the 31-year-old Song Joong Ki, who's become a Hallyu star himself after last year's phenomenal hit drama "Descendants of the Sun."
"Song Joong Ki does 120% of his given role," said Jo In Sung. "I'm not saying that Kwang Soo doesn't but he has a lot of concerns as both an actor and a variety show entertainer. He feels pressured so I once told him that times have changed and he doesn't need to worry and struggle with old perspectives engraved in his mind."
"Uncontrollably Fond" actor Kim Woo Bin can also attest to the support the celebrity friends get from each other. He mentioned in an interview last year that the friends give each other feedback and share their concerns with each other.
Jo In Sung used to tease Lee Kwang Soo whenever he's asked to compare the comedian with the heartthrob Song Joong Ki.
"Lee Kwang Soo is a good friend, but he is a handful," he said on SBS Power FM's "Park Sun Young's Cine Town."
Song Joong Ki, he added, gets him better and was more popular.
© 2023 Korea Portal, All rights reserved. Do not reproduce without permission.