G-Dragon's Solo Comeback Confirmed By YG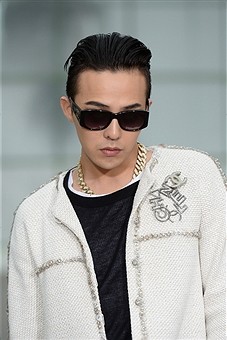 YG Entertainment confirmed reports that Big Bang leader G-Dragon will release a solo comeback and hold a concert early this year.
Reports circulated Friday that the 28-year-old Hallyu star and fashion icon would be releasing a solo comeback album as Big Bang members prepare for their upcoming military enlistment.
G-Dragon's label YG quickly confirmed the reports as something V.I.P. fans can excitedly look forward to even as Big Bang member T.O.P. temporarily leaves for military duty.
"G-Dragon is planning for a solo comeback and concert in the first half of the year. However, the exact time frame has yet to be confirmed," stated YG, as reported by allkpop.
The singer-songwriter's last solo album was "COUP D'ETAT" in 2013.
Though the announcement is the only concrete information available now, fans may also look forward to a collaboration between the YG artist and American artist Pharrell Williams to be included in the album.
G-Dragon teased fans in an Instagram post October last year with a photo of himself and the "Happy" singer in a music studio.
The caption read, "Coming Soon."
While many international celebrities look up to the Hallyu star, G-Dragon openly talked about the 43-year-old rapper as his one and only idol and of his dream of collaborating with the American artist.
"Pharrell [Williams]! Ever since I got into writing hip-hop music, he's been my only living idol," he told Hollywood Reporter in 2014.
Pharrell Williams also recognized G-Dragon's talent and welcomed the idea of working together.
"These two are amazing talents," tweeted Williams, referring to G-Dragon and artist Mina Kwon. "Korean art is vast and next level. Time to collab."
G-Dragon and Williams met each other for the first time that same year of 2014 at Williams' "G I R L" Exhibition at Galerie Perrotin held in Paris.
"@pharrell it's great to finally meet you capitol P congrats again man hope to see you soon," wrote G-Dragon on Instagram.
© 2023 Korea Portal, All rights reserved. Do not reproduce without permission.