Song Ji Hyo Turned To 'Running Man"'Lee Kwang Soo When She Run Away From Home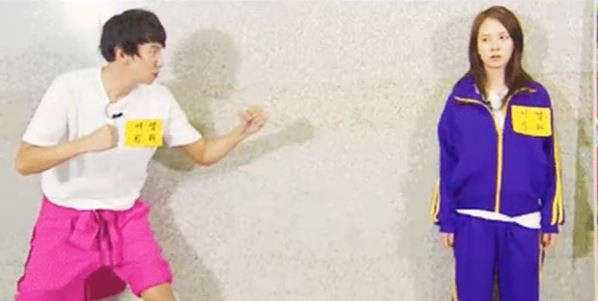 Actress Song Ji Hyo shocked the "Running Man" members when she revealed that she turned to actor Lee Kwang Soo when she ran away from home three years ago.
The rest of the "Running Man" members didn't know until Sunday's episode that the 35-year-old "Emergency Couple" actress ran away from home three years ago. They were even more surprised when they found out that she shared this secret with the 31-year-old actor-comedian Lee Kwang Soo, who offered her a place to stay when she did so.
The latest episode provided the viewers with not just laughter but also touching tears and juicy truths with the segment "Thank You, Sorry, I Love You."
Song Ji Hyo thanked Lee Kwang Soo for what he did for her three years ago.
"Three years ago, I quarreled with my mother and left my home [temporarily]," said the actress. "I had nowhere to go, and you offered me your place to stay. Thank you for that."
This surprised and baffled their cast members so Song Ji Hyo clarified that she ended up not going to Lee Kwang Soo's place after all.
"Because I was filming, I wasn't home. It did seem a bit strange after I offered," Lee Kwang Soo explained.
The younger actor also apologized to the co-star he considers his sister for hitting her many times on the show. Song Ji Hyo apologized for the same thing and explained that she only did so because she was most comfortable with him.
"Six years ago, you called me over and bought me barley-dried corvina (fish), and also a fan when I moved," he said. "You also often sent me messages to congratulate me, and gave me words of encouragement. Thank you."
Then he joked, "After words like these, I should suddenly say 'I love you' right?"
The members also had to undergo a lie detector test and revealed more "truths."
In another show, singer-comedian HaHa revealed that he, Yoo Jae Suk and Gary had serious injuries while filming "Running Man."
© 2023 Korea Portal, All rights reserved. Do not reproduce without permission.
Tags:
Song Ji Hyo
,
Running Man Song Ji Hyo
,
Song Ji Hyo and Lee Kwang Soo
,
Running Man
,
running man latest news
,
running man news
,
running man latest update
,
Running Man episode
,
Lee Kwang Soo
,
Haha
,
Running Man Haha
,
Yoo Jae Suk
,
Running Man Yoo Jae Suk
,
Gary
,
running man gary
,
Running Man injuries