Ha Ji Won dispels dating rumors with Taiwanese heartthrob Chen Bolin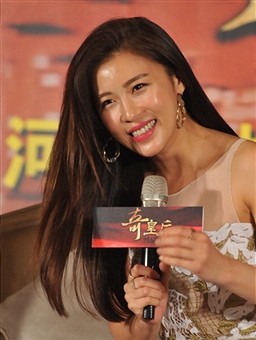 Top actress Ha Ji Won clarified that she's only good friends with Taiwanese actor Chen Bo Lin as dating rumors refused to die down.
The renowned 38-year-old actress is promoting her latest romantic comedy film "Risking Life For Love" with co-stars Chun Jun Myung and Chen, whom she said she shares similar personality and interests with. These, she explains might be the reason for the speculations behind an alleged romantic involvement between them.
"I'm an easygoing person, and Chen Bo Lin is also the cheerful type, so we just laughed it off. It was a misunderstanding that happened because we like the same poses and things like that," Soompi quoted the actress as saying in a recent interview for the upcoming movie.
She added that she's become comfortable with Chen during their movie shoot. Chen is eager to learn how to speak Korean and even asked her to teach him.
She also tried to dispel the rumors last year when she appeared in an interview for her TV series "The Time We Were Not In Love." Back then she said she only met Chen in a movie once and they followed each other on social media. She also brushed off their similar Instagram posts.
"It was funny to see the post of all our similar Instagram pictures. I thought, 'how is it possible to piece these together?'" Soompi quoted her as saying then. "The Klimt's 'Kiss' is a puzzle I received from Ha Jung Woo. The cat is my cat named Nyang."
The 33-year-old actor who's starred in several Taiwanese and Hong Kong films since his teenage years hopes to gain a footing in the Korean entertainment industry when he signed last year with BM+ Entertainment, the same agency as Ha Ji Won's.
He appeared in this year's "We Are in Love," a Chinese version of the Korean variety show "We Got Married" as the virtual husband of actress Song Ji Hyo. Their onscreen chemistry resulted in the popularity of "Bobo and Momo" couple.
© 2022 Korea Portal, All rights reserved. Do not reproduce without permission.