BtoB's Yook Sungjae Admits Feeling Burdened In Upcoming Drama "Goblin"
by
regrec
/ Nov 23, 2016 08:22 AM EST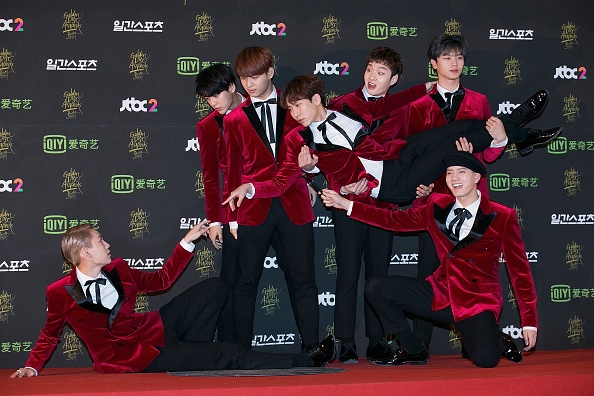 On Nov. 22, idol-turned actor Yook Sungjae openly expressed his thoughts in the upcoming tvN drama "Goblin" during a V Live Interview. The BtoB vocalist admits feeling pressured to take on his role co-starring with some of South Korea's veteran actors.
"There is a lot of pressure," Sungjae said. "It seemed like a lot of people were encouraging me and keeping an eye on me."
"Goblin" will be Sungjae's first drama project this 2016 after being cast in mystery dramas "Who Are You: School 2015" and "The Village: Achiara's Secret" last year. After winning some recognition and awards in both dramas, the 21-year-old star could be feeling even more pressured to deliver his next role.
"It was more than what I expected, so I felt burdened by it," Sungjae admitted.
The BtoB artist then shared how he overcome these feelings and decided to push through his role. He shared that his co-stars played a big role in keeping his anxiety away.
"When I arrived on set, all the other four actors were acting so comfortably that it made the filming feel really natural," Sungjae recounted. "Just looking into their eyes makes me feel comfortable, so I think I'll be able to develop little by little."
"Goblin" is the story of Kim Shin, played by Gong Yoo, a goblin who needs a human bride to end his immortal life. Along the way, he meets an amnesiac grim reaper Wang Yeo, played by Lee Dong Wook. Meanwhile, Yook Sung Jae completes the main male cast as Yoo Deok Hwa, Kim Shin's nephew and a chaebol heir whose family has been looking after the goblin for generations. Yook Sung Jae is the only male lead who doesn't have a direct romantic interest, with Kim Go Eun playing opposite Gong Yoo and Yoo In Na playing opposite Lee Dong Wook.
"Goblin" is Sungjae's fourth drama but not once has he had a fulfilled love in any of the stories. To this, the idol-actor laments his situation and wished for a romantic interest for himself.
"It would be good if I had a love line," Sungjae stated. "I'd like to try it just once."
"Goblin" will air every Fridays and Saturdays at 20:00 (KST) starting Dec. 2.
© 2019 Korea Portal, All rights reserved. Do not reproduce without permission.