Roo'ra's Chae Ri Na's Wedding Photos with Baseball Player Park Yong Geun Released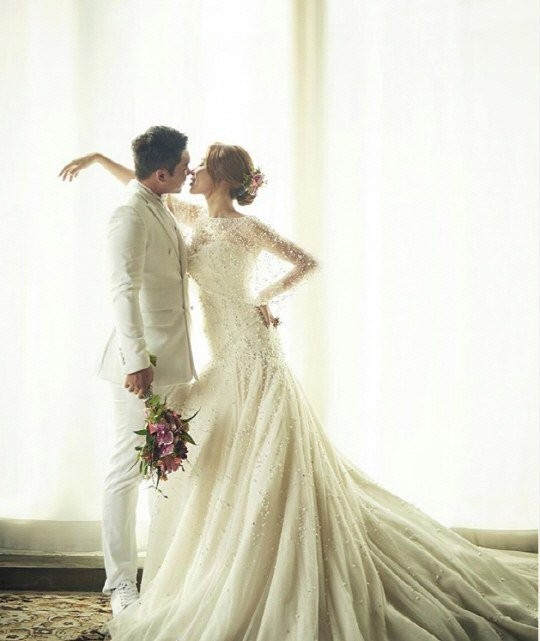 Roo'ra's Chae Ri Na's wedding photos were recently uploaded by the singer herself on her Instagram account. The singer recently held a small, private wedding with her longtime boyfriend, baseball player Park Yong Geun. They decided to share to the fans their gorgeous wedding pictures through the said social media platform.
Chae Ri Na decided to upload some of her wedding pictures on Instagram to reach out to fans and friends. According to the singer, they have decided to keep the event small and simple because they feel that having an extravagant celebration is not appropriate considering all the political hullabaloo the country is facing right now.
Roo'ra's Chae Ri Na's wedding photos were captioned with, "After the sudden reports, a lot of people have congratulated me. Thank you and I'm sorry I couldn't reach out to each one of you. I feel like it's extravagant to be having such a celebration in midst of the nation's chaos. We celebrated it quietly after receiving permission from both of our parents, so friends don't be upset. We will live happily~"
The two decided to go public with their relationship back in 2013. Now, after three years, they have decided to tie the knot in a private yet beautiful wedding ceremony.
Roo'ra's Chae Ri Na's wedding photos were flooded by comments from fans who wanted to congratulate the newlywed couple. They were gushing about how beautiful the singer is in her wedding pictures and were wishing the couple a happy married life ahead.
Chae Ri Na is a former member of hip-hop dance group 'Roo'ra'. The group was active from 1994 to 2001.
© 2018 Korea Portal, All rights reserved. Do not reproduce without permission.