Another Song-Song Couple Moment During Song Hye Kyo's Fan Meeting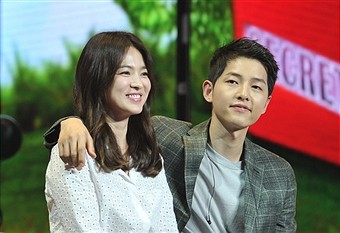 The famous "Descendants of the Sun" couple, Song Joong Ki and Song Hye Kyo, is having another Song-Song couple moment to the delight of their fans.
During Song Hye Kyo's fan meeting last November 13 to celebrate her 20th year since debut, she had Song Joong Ki and Yoo Ah In as guests. The actress is close to both actors so their appearance on the event is no longer a surprise.
Both actors made a lot of Song Hye Kyo's fans happy as they shared the stage with the actress. However, they left the stage right after their turn to give way to Song Hye Kyo.
As the fan meeting continued, Song Hye Kyo had to read a letter to her fans. As she read the letter she prepared for her fans, the actress wasn't able to help herself from crying. And to the surprise of the fans, they saw Song Joong Ki running back on stage to bring the actress some tissue. He then bowed his head to her fans and left the stage right after. Fans were deeply touched by that brief Song-Song couple moment. Song Joong Ki's gesture melted their hearts.
Fans were surprised to see the actor back on stage since they thought he already left the event. It has already been a while since he and Yoo Ah In left the stage so it's a surprise to learn that he's still at the venue, considering his hectic schedules. That brief Song-Song couple moment left the fans wondering if there's actually some truth behind all their dating rumors.
Ever since the couple starred in the hit drama "Descendants of the Sun," fans began to wish that they date in real life. Thus, Song-Song couple moments such as that is enough to make them hoping that the rumors are actually true.
© 2018 Korea Portal, All rights reserved. Do not reproduce without permission.