Descendants of the Sun 2' Canceled? Producers Talk About Cast Replacements
by
Allan
/ Nov 15, 2016 06:15 AM EST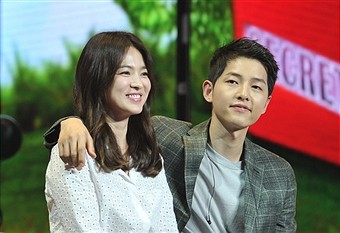 It looks like "Descendants of the Sun 2" will have to be canceled because lead star Song Joong Ki already has his schedule reserved for "Train to Busan 2." In addition, the director and production team handling the zombie sequel movie is the same team who did the original "Descendants of the Sun." The only option left is for the series to consider a new director and cast replacements.
According to reports, a cast replacement could make the project less expensive but will be too risky. Fans are very loyal to the original loveteam of "Descendants of the Sun" so getting a new pair to continue their story will not be successful. Reports also state that showrunners are not at all willing to risk it despite it being the only option for a sequel to happen within the coming year.
It is very understandable why producers would prioritize making "Train to Busan 2" over "Descendants of the Sun" since it was the first to cast the actor for the sequel. Secondly, "Train to Busan 2" will likely have a bigger release as people from around the world have enjoyed the first movie and are looking forward to its sequel. Meanwhile, "Descendants of the Sun" may be a big hit in Korea and in different parts of the world, it's still not as big as "Train to Busan 2"
At the moment, Song Joong Ki is working on "Battleship Island" that started 2 months after the conclusion of "Descendants of the Sun." After that, the actor is said to be working on "Train to Busan 2" but no details nor confirmation have been given as of yet. All that is known is that if the sequel of the zombie movie pushes through, it will be highly unlikely for "Descendant of the Sun 2" to happen anytime soon.
© 2023 Korea Portal, All rights reserved. Do not reproduce without permission.